New Patients
of Periodontist Dr. Scharf
Your First Visit to Dr. Scharf's Office
We want your first visit to be a great experience! It's easy:
First, contact us to make an appointment. We schedule appointments to allow plenty of time for each patient and strive to stay on schedule.
Fill out a few forms. We'll mail you a welcome packet so you can do this in advance, or you can download the forms now!
Meet the staff. Dr. Scharf will see you personally so you can talk with him one-on-one about your dental care.
Get an exam. A comprehensive exam lets Dr. Scharf know exactly what your dental needs are.
Consult about your treatment. Dr. Scharf will lay out your options, and our treatment coordinator can help you figure out finances. More information about financial matters and how we can help to maximize your insurance benefits can be found here.
Perhaps your dentist or physician has just referred you to Dr. Scharf. Perhaps you are one of the hundreds of patients who come to us through the Internet because you saw Dr. Scharf on television or because someone you know is a patient of ours. Maybe you're ready for a change in the way your dental care is handled, or maybe you've been without care for an extended period of time. We want to give you an idea of what your first visit will be like and what you can expect when you visit our office.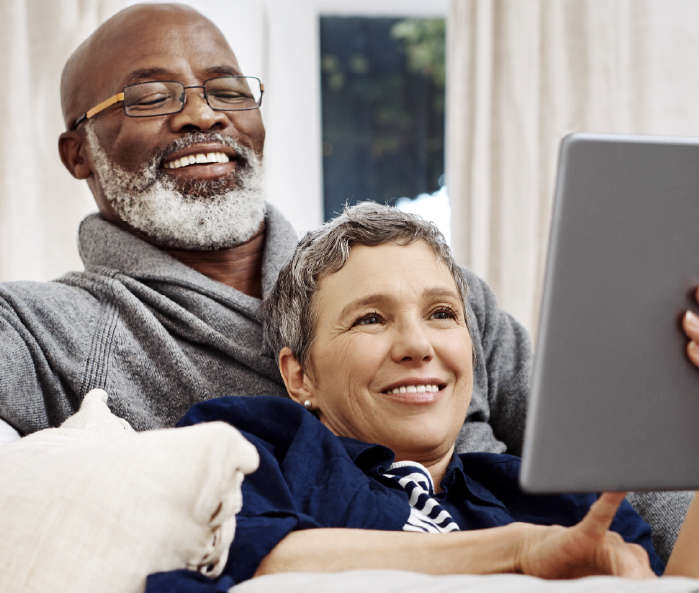 When you call us to make your first appointment, we will gather some information about you over the phone and then schedule an appointment time that will be reserved exclusively for you. Next, we will mail you a welcome packet containing information about our practice as well as a patient registration form and a medical history form. By completing these forms at home before your appointment, you'll find it easy to record information about any medications you may be taking and accurately complete the section required in order to access any dental insurance benefits to which you are entitled.
Getting these forms sent to you in advance allows you to fill them out in the comfort of your home instead of having to show up early for your appointment and balance a clipboard on your lap while trying to remember all the little details. When you bring the completed forms to your first appointment, we will be able to see you promptly.
Meet the Staff
Upon arriving in our office, you will be warmly greeted by our receptionist and then by one of Dr. Scharf's treatment assistants. The assistant will escort you to a private consultation area where you will meet with Dr. Scharf. We strongly believe that each patient must be treated as an individual, and your first visit is designed to help us get to know you and understand your unique needs. The first twenty minutes or so of your new patient visit will be spent talking one-on-one with Dr. Scharf.
You will be able to discuss with Dr. Scharf what you want and don't want as well as your likes and dislikes. This is your opportunity to bring up any concerns about your conditions or any symptoms or pain you may be experiencing, and to let us know about any special needs you may have. Dr. Scharf will also talk to you about your general medical and dental history. Once you feel that all your questions have been answered, you will move to the clinical area for an evaluation.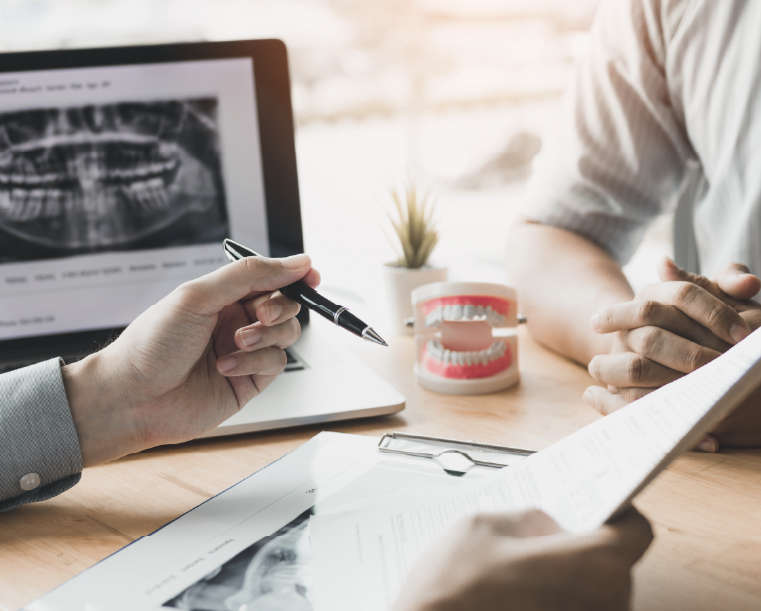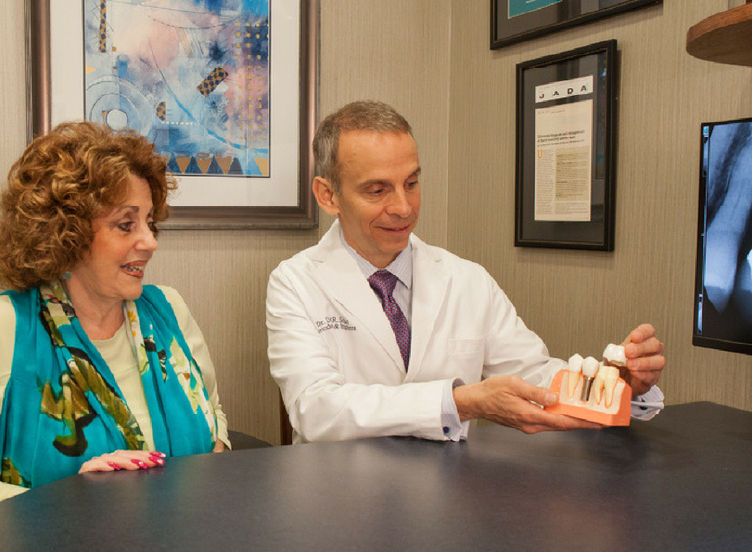 ---
New Patient Evaluation
Dr. Scharf will perform a thorough head and neck examination as well as an oral cancer screening. This will be followed by a detailed periodontal and dental examination. Since each tooth is related in some way to every other tooth in your mouth as well as your gums and bone structure, Dr. Scharf will examine your entire mouth in order to arrive at a correct diagnosis. As he proceeds with your examination, Dr. Scharf will explain each of the clinical parameters he measures and its significance. Through this process of codiscovery, you will gain a full understanding of the nature and severity of your condition.
---
Radiography—A Look Inside Your Mouth
Based on Dr. Scharf's findings and your wishes, we will take the minimum number of digital X-ray images necessary for a diagnosis and treatment planning discussion. For periodontal patients, this is usually a basic periodontal film series taken with our digital X-ray system, which uses up to 90 percent less radiation than film-based systems. For implant patients, this is usually a dental scan taken with our cone beam scanner, which produces a CAT scan image with only one-tenth the radiation exposure of a medical CT scanner. Absolutely no radiographs will be taken until their necessity is explained to you and you agree that they are needed. If you have existing films that are available to make a diagnosis, we will not take any radiographs.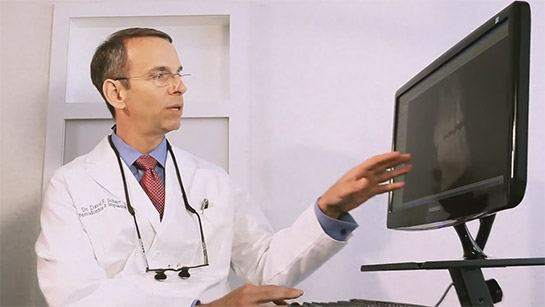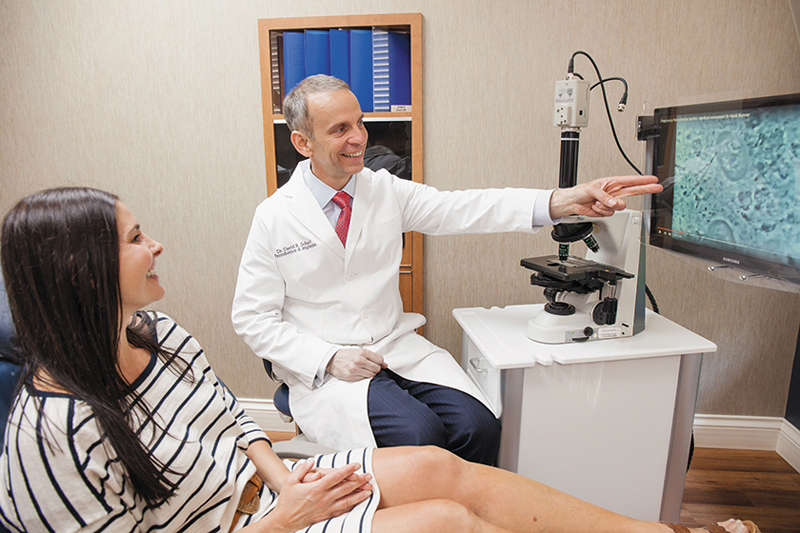 Treatment Conference
At this point in your first visit, you will generally have been in our office for 40 minutes to one hour. Depending on the complexities of your needs, Dr. Scharf will see you immediately for a post-evaluation treatment conference or schedule one for a later date. This conference usually takes an additional 20–40 minutes. If you are on a tight schedule, you can take advantage of a separate treatment conference visit without incurring additional costs, as the fee for your initial examination includes your conference, even if it takes place on a different day.
At the treatment conference, Dr. Scharf will discuss his findings and your treatment options with you at length. You can ask any questions you wish so you have a clear picture of your condition and the treatment options available to you. We will highlight the pros and cons of each treatment option as well as the associated fees and time involved. This will help you decide which treatment approach is best for you.
Finalizing Your Treatment Plan
At the end of your visit, our treatment coordinator will meet with you to make financial arrangements so that the treatment you want and need can fit into your budget. We offer interest-free financing and options that allow patients to spread out payments over time yet complete their treatment quickly. We will also help you maximize any dental benefit you may. You'll receive a printout of all your scheduled appointments, and Dr. Scharf will discuss with you how the work you have done at each visit could impact the rest of your day so you can plan accordingly.