Gum Depigmentation Treatment
in Long Island
A healthy-looking smile says a lot about a person, and so can discolored gums! Believe it or not, a healthy smile starts with a healthy set of gums! Your teeth may be healthy, white and strong, but if your gums are discolored or misshapen it can affect the way you feel about the aesthetic look of your smile.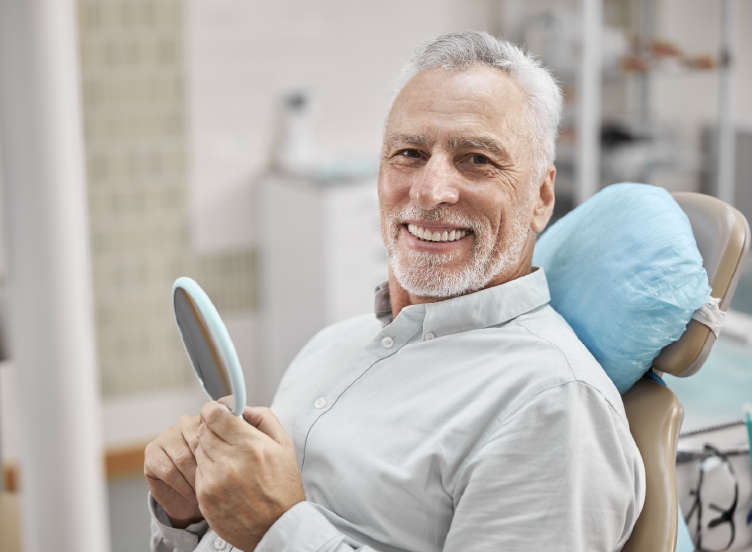 What Is A Gum Depigmentation Treatment?
Gums that are discolored can negatively affect the aesthetic look of your smile. Not to mention, it can affect how you feel about the entire look of your smile. Fortunately, there is an easy way to restore your gums to a natural and healthy-looking shade of pink.Instead of living with discolored gums, visit Dr. Scharf's office to see if a gum depigmentation treatment (also known as gum bleaching) is right for you! You'll be amazed at how well pink gums can showcase your naturally beautiful smile.
What Causes Dark and Splotchy Gums?
Dark and splotchy gums are typically caused by genetics. In many cases, an excess amount of melanin builds up in the gum tissue, creating the dark pigmentation. The dark pigmentation doesn't necessarily mean there is anything wrong with the gum tissue, but it could be an indication of a few lifestyle choices. Below are listed some of the reasons that might have darkened the color of your gum tissue: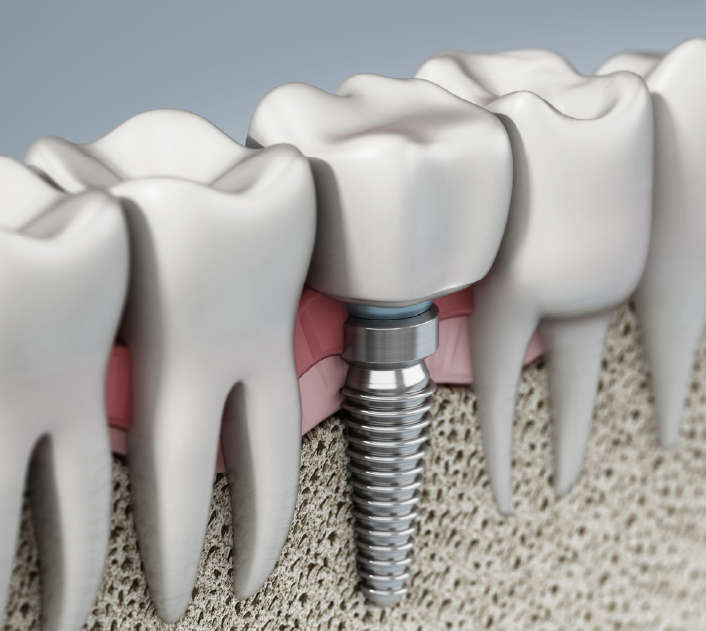 Poor Dental Hygiene: It's no secret that your dental hygiene habits go a long way in regards to keeping your gum tissue healthy. Gums that aren't adequately cared for can become red, swollen, and even discolored. Typically, discolored gums are a result of a past dental infection or even a tissue injury.
Ethnicity: Genetics and even your ethnicity can play a role in whether or not your gums become discolored. Excess melanin production in the gum tissue can cause discoloration and spots that make your gums look unhealthy. Fortunately, we can reverse this process without much difficulty!
Daily Habits: Habits such as smoking or chewing tobacco can cause a significant discoloration in your gums. It is likely that we will recommend that patients with discolored gums due to cigarettes or chewing tobacco quit before receiving treatment. This is so the patients has an effective procedure that lasts. If one should continue to smoke or chew tobacco after a gum depigmentation treatment, you will likely have to return for an additional treatment further on down the road. If you wish to continue smoking after the procedure, we recommend that you refrain from smoking for 7 days to adequately heal.
Other Medications: Believe it or not, certain prescription medications can cause gum darkening and discoloration. However, it should be mentioned that as long as you continue to take the medication, the longer your gums will be affected. Patients who continue to take medication may have to return for additional procedures to lighten any dark spots. Talk to Dr. Scharf if you have any questions about the prescription medications that could be causing dark or discolored gum tissues.
With a quick laser gum bleaching treatment, you can have healthy looking gums that you'll love showing off. If you think that gum depigmentation treatment is right for you, then schedule an appointment with Dr. Scharf for gum bleaching in Long Island.
Who Is A Candidate for Gum Depigmentation Treatment?
Many of Dr.Scharf's patients with good oral health are excellent candidates for a gum depigmentation treatment. Typically, gum tissue simply needs to be healthy enough for the procedure. A simple consultation from Dr. Scharf is enough to decide if you are a candidate for a gum depigmentation treatment.
Also keep in mind that if you have one of these dental or other health issues, it may not be recommended that you undergo a gum depigmentation treatment:
Oral or other health diseases and issues.
Darkened gums due to periodontal disease.
Thinning gum tissue or prominent tooth roots.
Patients taking blood thinners should not undergo this dental procedure.
Make an appointment with Dr. Scharf to discuss your personal case and you will work together to determine if Gum Depigmentation is right for you.
---
What Can I Expect from a Gum Depigmentation Treatment?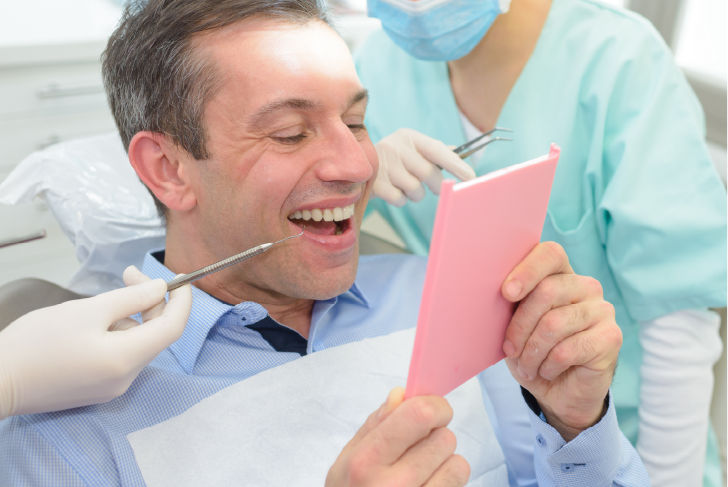 Once you've been cleared for the procedure, Dr. Scharf will begin by applying a topical anesthetic onto your gum tissue. Typically, local anesthesia isn't used for the procedure, but if you are uncomfortable or have a low pain threshold, normal topical anesthesia injections may be substituted for your comfort.
After the anesthetic has fully activated, Dr. Scharf will use a small laser to remove the pigment from dark patches of gum tissue. In the case of most of our patients, this procedure can be completed in as little as 20-40 minutes in our office. Once complete your gums will look healthier and better compliment your smile!
When treatment is complete, patients can return to their normal day-to-day life with minimal discomfort. Patients should be able to talk and eat just as they naturally would. Most patients report that slight gum discomfort occurs after the procedure, but this symptom can be easily managed with over-the-counter pain medication. Call our offices in the case of severe pain.
Why Choose Dr. Scharf?
Dr. Scharf is one of the best periodontists in Long Island, New York for gum bleaching, dental implants, gum disease treatment and more. He is board-certified by the periodontal society, certified in the LANAP procedure, and an innovator in dental implants, Dr. Scharf is more than capable of providing you with the quality dental care that you deserve. Let Dr. Scharf and his team care for your dental needs and give you a personalized treatment plan to help bring you a brighter and healthier smile! Call (631) 661-6633 to schedule your appointment with Dr. Scharf today!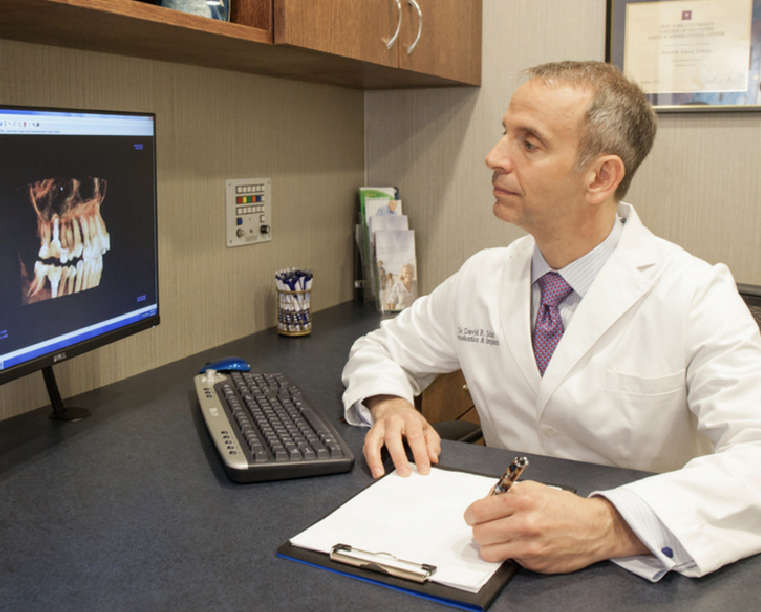 Long Island Gum Bleaching
ADDRESS:
98 East Main Street
Babylon, NY 11702
Get Directions
PHONE: (631) 661-6633
OFFICE HOURS:
Monday: 11:00 AM to 8:00 PM
Tuesday: 9:00 AM to 8:00 PM
Wednesday: 8:00 AM to 5:00 PM
Thursday: 8:00 AM to 5:00 PM
Friday: 8:00 AM to 5:00 PM