Periodontal & Dental Implant Services
in Long Island
Dr. David R. Scharf is a periodontist in Long Island who specializes in a number of services and procedures. A periodontist is a dentist who specializes in treating, identifying, and preventing periodontal diseases. Periodontal diseases are those that are related to the bones and gums. These supporting structures are essential to healthy teeth and keeping teeth in place.
You can trust that with Dr. Sharf you are getting care from a board certified periodontist who is a certified instructor for LANAP. He is a caring periodontist who takes time to talk to patients and listen to what they have to say.
Our office provides many different services. Here is an overview of the main procedures we offer and a brief overview of what they are.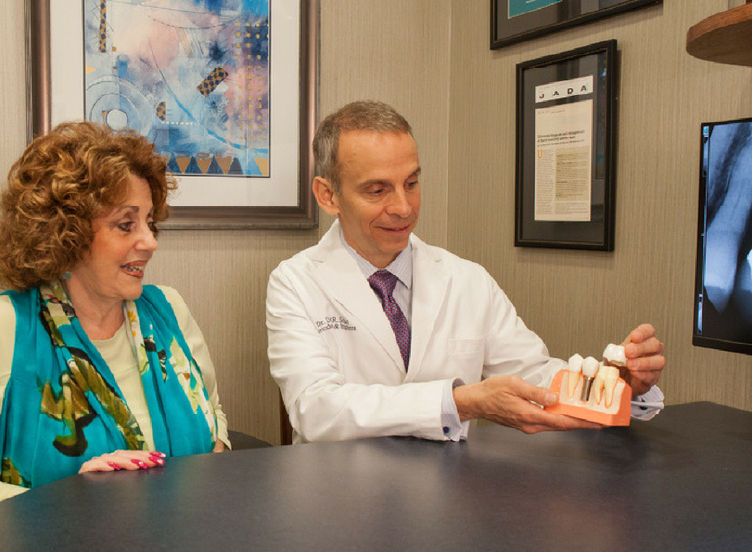 Dental Implants
Dental implants are artificial tooth roots that will fuse with the jawbone in ways similar to how your natural teeth do. The process of dental implants varies based on the patient. But, in general, dental implants begin with titanium posts being placed in the jaw bone. Then, the bone bonds with the titanium post to create a solid foundation. Lastly, the prosthetic teeth are put in. The material of these implants creates a look, feel, and function of a natural tooth.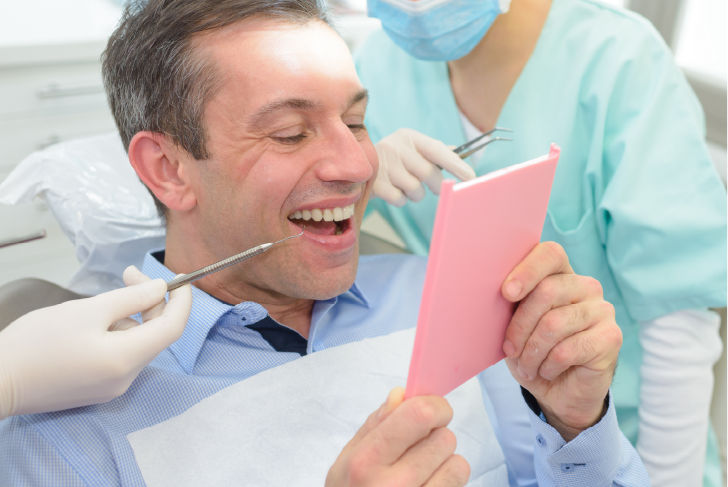 Gum Disease Treatment
Periodontal disease starts when bacteria enter gum tissue. This disease tends to worsen over time, and, unless treated, teeth often need to be removed. There are many different ways to treat periodontal disease. Here are some of the options we offer.
Pinhole Surgery Technique: This is a relatively new method of treating gum disease that was developed by Dr. John Chao in 2006. This method involves stretching existing gum tissue to cover a desire area from the inside. This is a method for treating recession on the gum line that is minimally invasive with a quicker recovery time than traditional methods. Dr. Scharf was one of the first periodontists in Long Island to offer the pinhole surgery technique.
Laser Periodontal Therapy (LANAP): Many people don't even realize they have periodontal disease until it has already progressed significantly. LANAP is a technique that uses a small periodontal probe fitted with a diode laser. It is an improvement upon older flap surgery techniques. LANAP is a suture-free process that lasts for about two hours. Most patients only need to attend a couple of sessions to remove the bacteria and see the impact of healthy gums.
Non-Surgical Treatment: Dr. Scharf also offers nonsurgical options for treating gum disease. The type of nonsurgical treatment varies based on the patient and the type of gum disease they have. He may use a perioscopy method or periodontal tooth scaling methods with a periscopic laser.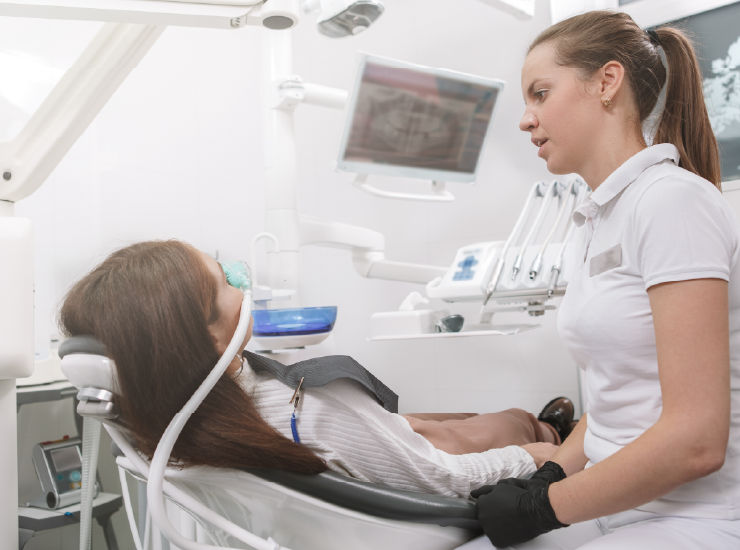 Sedation Dentistry
We recognize that some patients have anxiety over going to the dentist. We offer three different methods of sedation dentistry to help put high-stress patients at ease. The three methods of sedation dentistry we have at Dr. Scharf's office are IV sedation, oral sedation, and the NuCalm method. Each method has advantages, and it depends on the patient and procedure as to which method is used.
---
Cosmetic Dentistry
Dr. Scharf also offers cosmetic dentistry services. We know there are patients who don't feel confident in their smiles. We want to help these patients feel free to smile! So, we have gum recontouring serv often use laser gum surgery to help reduce the appearance of a gummy smile and get you the smile you want.
---
Crown Lengthening
A crown lengthening procedure is when a periodontist exposes more of a tooth's structure. This procedure is done so that a dentist will be able to fit a crown properly on a tooth that does not originally have enough structure available above the gumline.
---
Ridge Enhancement
Ridge enhancement is a way to restore functionality and cosmetic appearance. The gum ridge is part of the gum tissue that is visible after a tooth removal. This exposed ridge often will shrink and create a ridge defect. This makes it hard to create natural replacement teeth or insert dental implants. A ridge enhancement can restore the ridge and make it easier to replace teeth.
With Dr. Scharf and our professional team, we are committed to giving you high quality care. Each patient is different, and we will work on an individualized level to give every patient the services they need.
Book your appointment today
Call our office at (631) 661-6633