Patient Reviews of Long Island
Periodontist Dr. David Scharf
The most important measure of success in a dental office is how patients talk about their experience there. If we can provide exceptional service and leave patients delighted with how their smile looks and feels, we can expect them to be back. These are the kind of patients who leave great reviews and who refer their friends and family for dental implants and periodontal disease treatment. All of us at Dr. Scharf's Long Island periodontal practice treat our patients in a way we hope will earn us a positive review and a return visit.
Dr. Scharf is very proud to share what some of his patients have said about their experience in his dental practice. If you've visited us before, we hope you'll let us know how your experience was.
If you're looking for a periodontist in Long Island, we welcome you to Dr. Scharf's dental office. Please read and watch our patient reviews to get a better sense of why patients have chosen us. You can also learn more about our practice by visiting our New Patients page, About Us page, or by scheduling an appointment with Dr. Scharf so you can directly to ask him any specific questions you might have. We look forward to your visit!
Read The Many 5-Star Reviews from Our Patients
Patient Letters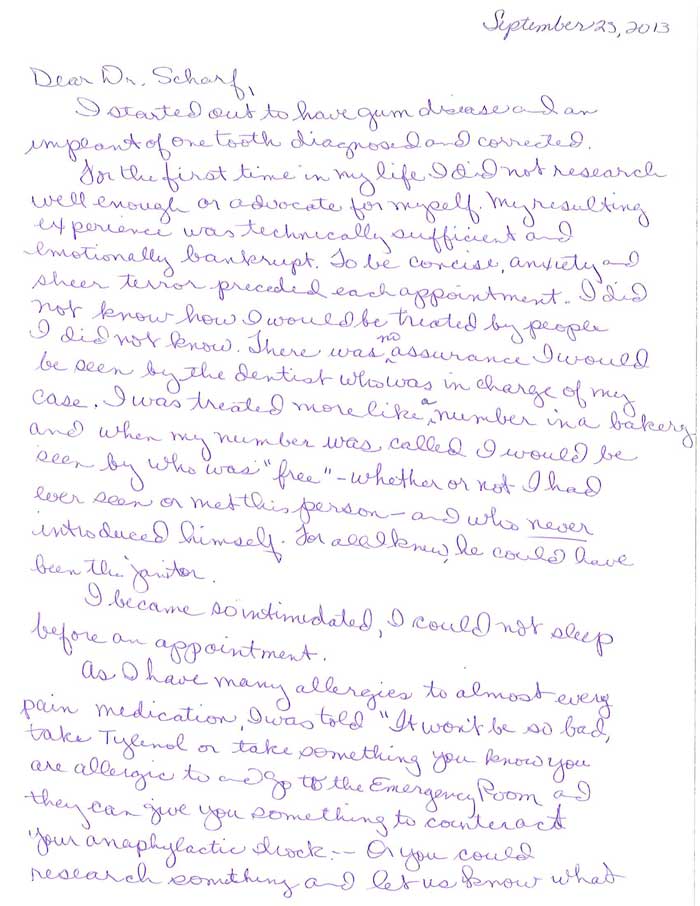 Patient Video Reviews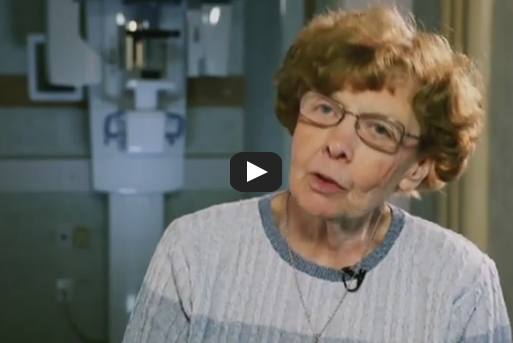 Dr. Scharf's patient's talk about their experience in his Long Island office.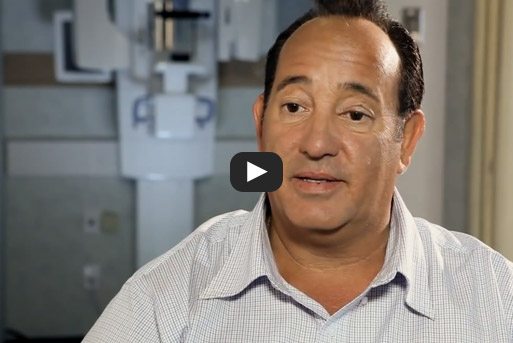 Joe's experience with Long Island Periodontist Dr. David Scharf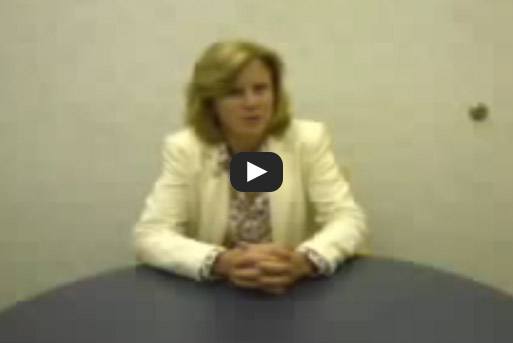 Dental Implants Long Island A patients experience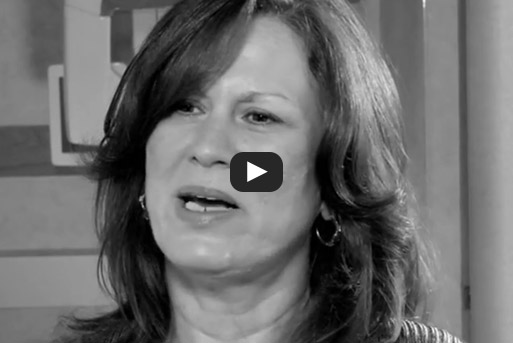 Caroline's experience having dental implants with Long Island Periodontist Dr David Scharf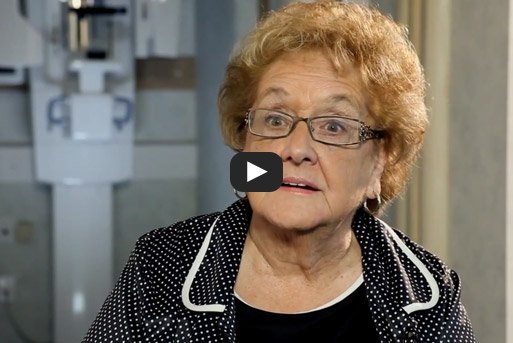 Frances discusses her Long Island dental implants with Dr. Scharf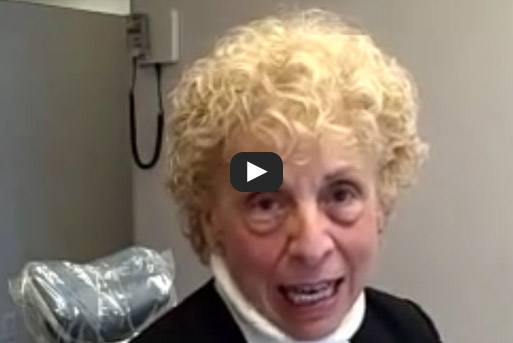 Cosmetic Dentist Long Island – You are never too old to smile
Long Island Laser gum Treatment Patient Experience
About Our Patient Reviews for Dr. David Scharf
At Dr. Scharf's office, we see our patients as the whole person, and who are in need of our expertise to gain a healthier set of teeth. Perhaps with other dental offices you have felt a surge of anxiety as you schedule your appointment, and come in only to feel like just another patient passed off to an indifferent dentist. You felt they didn't care about keeping you informed, comfortable, and satisfied so much as they hope to move on to the next patient. However, at Dr. Scharf's office you will quickly discover that truly, your satisfaction is our highest priority!
As Dr. Scharf himself has said, "You must be 100 percent satisfied with your experience in my office. If you are not, please tell me how we could have done better, and we will address the issue. Don't just take my word for it. Visit the patient letters section of this page to see copies of the thank-you notes that patients have written me over the years. When was the last time you were so inspired by an experience in a doctor's office that you sent a thank-you note?"
While reading reviews for our office, you will find that our patients agree – 100 percent satisfaction is the standard. Kevin C says, "This is the most professional dental office I have experienced. Everyone was very professional, the environment very clean and comfortable. Dr. Scharf is a true professional and he explains every single step of the procedure to you along the way. After my procedure, he personally called and checked up on how I was doing. I would recommend him to everyone I know."
Roseanne M had a similar experience, also feeling very grateful for Dr. Scharf's kind, professional manner: "I am very impressed with the office, staff and mostly Dr Scharf. I had surgery on my gums. I didn't have any discomfort and Dr. Scharf was there for me though it all. I highly recommend him."
With regards to Dr. Scharf's expertise in his field and his ability to address his patients' needs, Jennifer S said, "Dr. Scharf and his staff are amazing. I had the LANAP surgery 2 months ago and I feel like a new person. This experience has changed my life in so many ways. Do not hesitate! Make an appointment ASAP! My teeth and gums have been saved! Thank you Dr. Scharf!" When you visit our office, you'll be pleasantly surprised to see all that we can do for you in giving you a healthy smile!
In addition to performing as a highly proficient Long Island Periodontist, Dr. Scharf will walk through your procedure with you step by step, and his staff will work to make you feel as happy and comfortable as possible. Michael W. commented, "I needed treatment for a serious dental issue which required a complicated procedure. Dr. Scharf and his staff provided expert care. Dr. Scharf and his staff made me feel comfortable and treated me like I was the I was the most important person in the office. I would recommend Dr. Scharf without reservation."
Loralee P also had an excellent experience: "I think this is the best dentist I've ever been to. The office is seriously clean, wonderful Doctor and staff. From the time you enter the office you feel like you're home. They explain everything from start to finish. The care and personal follow up from the Doctor is the best. My husband had laser deep cleaning both sides of the mouth and there was minimal discomfort. I'm next! Highly recommend this Dentist and his wonderful staff!" As Loralee commented, we are happy to explain to you what you need to know about the procedure and how it's going to happen. By doing this, patients feel far more relaxed, and they rightly feel assured that we're doing all we can for them.
When you come to our office for your appointment, we work hard to ensure that you will feel welcomed while here. We want to help you, and we feel that our genuine desire to serve you will be evident in every interaction you have with us. Alex L said, "I can honestly say this was a wonderful experience from the first initial phone call! Staff is very welcoming. And I been to tons of other offices where you have to stand in front of people to get acknowledged. Not here! Dr. Scharf is very professional, welcoming and warm. If you've been to other offices and have to deal with uneducated, and unprofessional staff. Why bother! Come here! I live far out east and still take the 45 min drive just to get great service."
At our Long Island Periodontal Practice, we know that when it comes to getting help with your dental needs, great service is paramount. Our efforts have earned us our 4.9/5.0 star rating on Google! If you want to learn more about what people are saying about us, you can find these reviews and many, many more that attest to our love for our patients and our deep commitment to them.
Schedule an appointment with Dr. Scharf today and see what experience and exceptional care do to help give you a healthy and beautiful smile!