The Pinhole Surgical Technique
in Long Island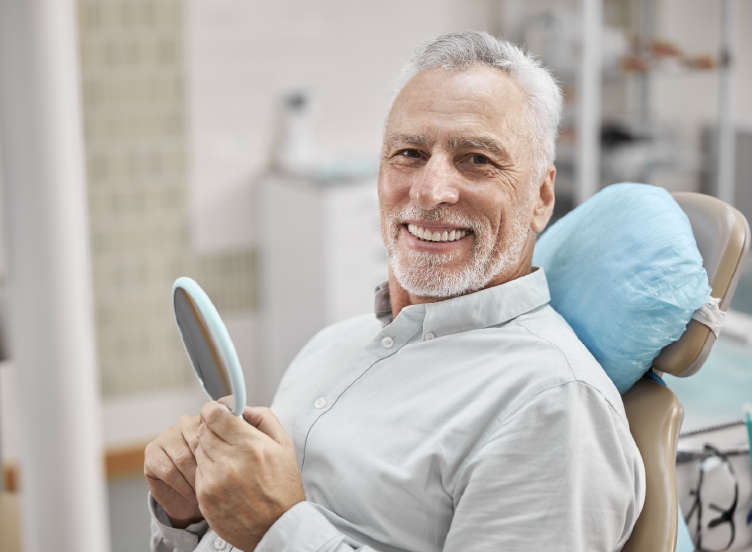 Living with gum recession can be debilitating. It can cause excruciating sensitivity to food and drink. It also undermines the stability of your teeth. Older gum grafting surgeries were effective, but they also involved a significant recovery time and several procedures to achieve the proper results. There needed to be a better way of treating gum recession. In 2006 Dr. John Chao, a practicing dentist in California, developed the Pinhole Surgical Technique (PST). An innovative treatment method that erased the need for traditional gum grafts! See the video and information below to learn more:
Before & After Photos From Dr. Scharf's Patients:





Traditional gum grafts, which involved the painful harvesting of tissue from another area in the mouth, then having to cut a tissue flap around the recessed gums, and then sewing the graft in place no longer are needed! The pinhole procedure simply involves stretching your existing gum tissue to cover your exposed roots. This allows for faster healing and immediate aesthetic results! A vast improvement to the traditional, and painful methods for treating gum recession.
To offer this procedure, Dr. Scharf had to undergo special training directly from Dr. Chao. To date relatively few Periodontists have adopted this amazing procedure. Dr. Scharf was one of the first Long Island Periodontists to begin offering the Pinhole Surgical Technique and is pleased to offer it to his patients.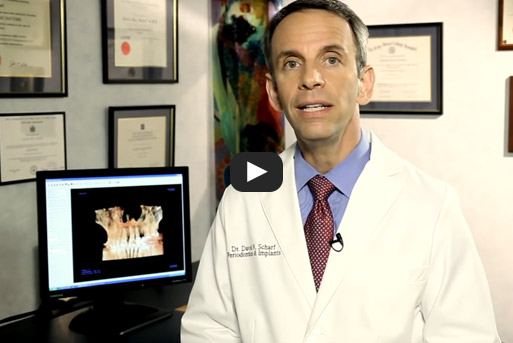 ---
The Benefits of the Pinhole Surgical Technique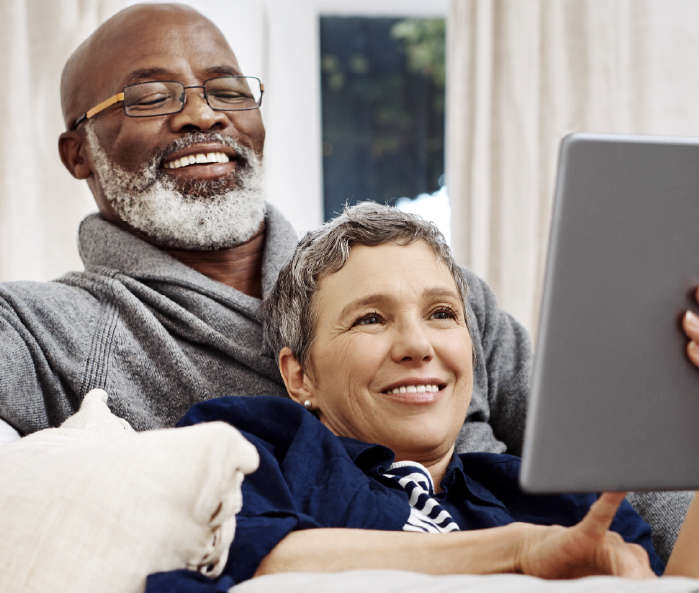 There is a reason that dentists worldwide flock to Dr. Chao's training sessions. PST is a truly innovative, remarkable surgical option that completely reinvents the gum grafting procedure and experience. Here are some of the powerful benefits of the Pinhole® Surgical Technique.
Minimally Invasive
Unlike traditional gum grafting surgery, which includes incisions and stitches around the grafted areas and the donor site, PST is minimally invasive, which dramatically improves the patient experience and recovery time. In fact, PST is considered incision-free, since patients don't receive long incisions that require stitches. Also, no stitches means that patients don't have to return for subsequent appointments to remove sutures or worry about disrupting sutures when they eat or drink.
Shorter Procedure
Because there are no incisions during pinhole surgery, the procedure is much more comfortable for patients. Also, unlike traditional grafting, PST can be used to treat more than one tooth at once, which dramatically speeds up the process. In fact, while traditional gum grafting surgeries can take over 90 minutes and require multiple sessions to complete, the Pinhole® Surgical Technique takes under an hour.
Faster Recovery
Since pinhole surgery is so non-invasive, the results are immediate and recovery is incredibly fast. Immediately following surgery, your gums will look beautiful, natural, and healthy. Minor swelling and bruising can occur, but most patients report a full recovery within a few days following the procedure. Patients can eat and drink normally following pinhole surgery.
Less Chance of Infection
Tiny pinhole incisions and the absence of large grafts also mean that your risks of developing an infection are reduced significantly. Avoiding infections means that you can more easily keep your smile beautiful, comfortable, and healthy.
Lasting Natural-Looking Results
One of the best things about the Pinhole® Surgical Technique is that it offers excellent patient results that are visible immediately. The gum tissue is moved down into place to naturally cover exposed teeth, and there are no visible breaks in the gum tissue or scars that can make your gums look bumpy. Instead, your gums will simply look like they were never recessed in the first place.
Instant Protection Against Decay
The Pinhole® Surgical Technique offers immediate, effective protection against tooth decay, which can help patients to avoid problems with periodontal disease. When the gums have receded, plaque and bacteria can invade the gingival tissues and create deep pockets between the teeth and gums, ultimately leading to bone loss, loose teeth, and serious infections. However, pinhole surgery is so fast and so effective that it can help patients to ward off other oral health threats.
Effective!
Research has shown the pinhole surgical technique to be incredibly effective, even when compared to traditional gum grafting surgery. In fact, one research study published in the International Journal of Periodontics and Restorative Dentistry found that pinhole surgery was effective in 94% of cases that involved gum recession in Class I and Class II sites.
The Pinhole Surgical Technique Process
During the procedure, a tiny incision about the size of a pinhole (hence the name) is created above the teeth affected by gum recession. A special tool is inserted into the hole and used to gently push the tissue downwards towards your natural gumline. Small collagen strips are then placed inside of the incision to encourage the gum tissue to heal and keep it in place. There are no additional incisions or grafts needed! All it takes is your existing gum tissue being pushed into its original position. The Pinhole Surgical Technique is an exciting, highly effective, and comfortable treatment for patients with common gum recession.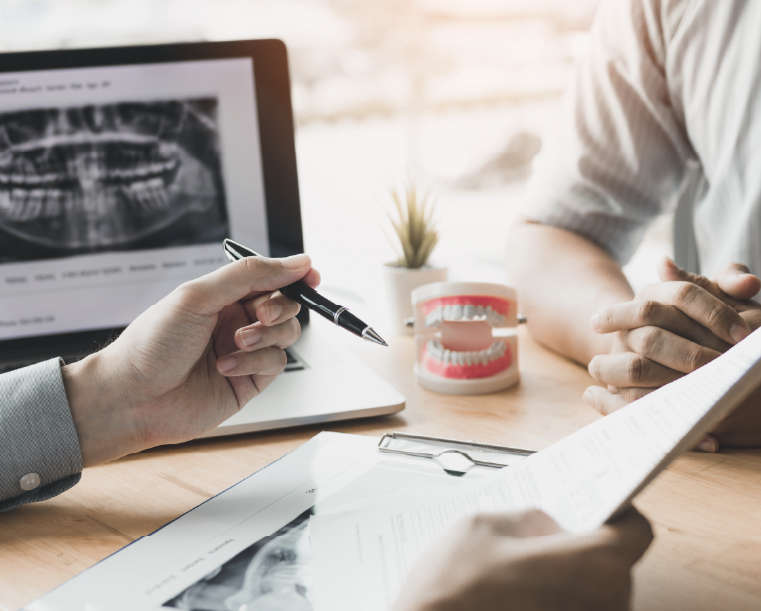 ---
Dr. Scharf Can Help Treat Your Gum Recession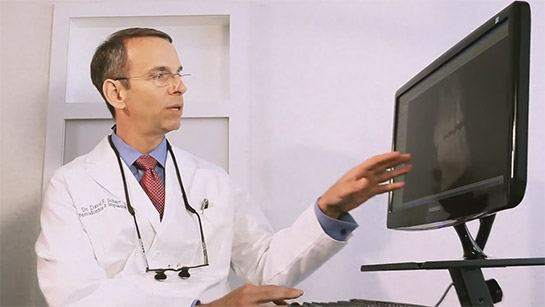 If you have experienced gum recession, make an appointment with Dr. Scharf for a consultation. As a board-certified periodontist, an achievement that only one in three periodontists receive, Dr. David Scharf has the training and experience necessary to correct your gum recession issues. After conducting a careful periodontal examination of your teeth, gums, and underlying supportive structures, Dr. Scharf will talk with you about whether or not you are a candidate for the Pinhole® Surgical Technique.
If you are a candidate for PST, Dr. Scharf will schedule another appointment with you to perform the procedure. Unlike many other surgeries, patients undergoing PST should be able to drive themselves to and from our practice and conduct their normal daily activities after the treatment is complete. Upwards of 10-14 teeth can be treated in a single session, but depending on your personal level of gum recession, you may need additional sessions to correct every recessed gum line. After your initial consultation, Dr. Scharf will give you a better idea of your personal treatment timeline.
Long Island Pinhole Gum Surgery
ADDRESS:
98 East Main Street
Babylon, NY 11702
Get Directions
PHONE: (631) 661-6633
OFFICE HOURS:
Monday: 11:00 AM to 8:00 PM
Tuesday: 9:00 AM to 8:00 PM
Wednesday: 8:00 AM to 5:00 PM
Thursday: 8:00 AM to 5:00 PM
Friday: 8:00 AM to 5:00 PM