What Can Dr. Scharf Do For You?
If you have been referred to Dr. Scharf by your general dentist, are looking for periodontal care, or dental implant placement, we can help you achieve your healthiest smile in a safe and comfortable setting.
Dr. Scharf, a Leading Periodontist in Long Island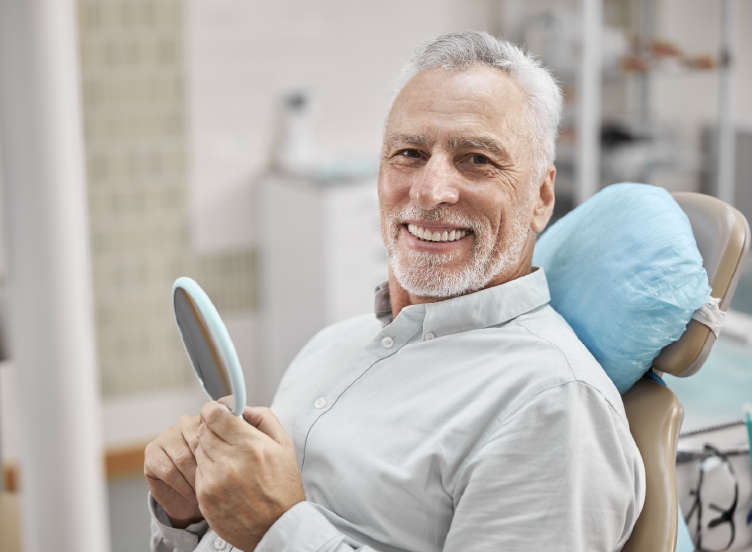 A periodontist is a dentist that has specialized in the treatment, identification, and prevention of periodontal diseases also known as gum disease, which is a serious issue for not only your oral health, but your overall health. Periodontal diseases and conditions impact the supporting bones and gums that keep the teeth healthy and in place. Dr. David R. Scharf is a board certified periodontist and is well equipped to handle all your periodontal needs. Dr. Scharf is a certified instructor for LANAP, Laser Gum Treatment, and takes the time to talk to his patients, address their concerns, and provide them with the best recommended care possible. Take a moment to learn more about what periodontics are, how to recognize periodontal disease, and how periodontics can help you.
Periodontal Procedures Available at Dr. Scharf's Practice
There are non-anesthetic and anesthetic procedures available for periodontal treatment. The type of treatment is tailored to the severity of the gum disease. In its early stages, a professional deep dental cleaning can be enough to treat the issue. In more advanced stages, the procedures escalate to scaling and root planing, bone grafts and soft tissue grafting, and pocket reduction and flap surgery.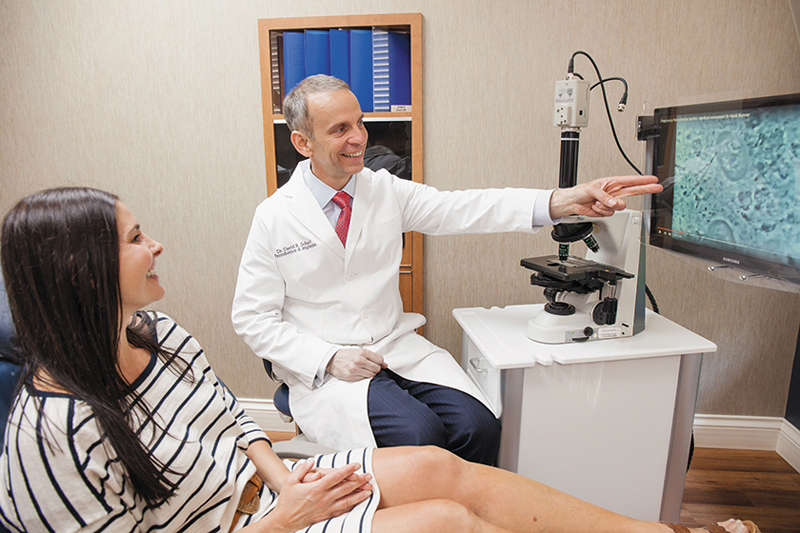 Professional Dental Cleaning: typically done during checkups, this procedure removes plaque and tartar which helps prevent gum disease.
Scaling and Root Planing: this deep cleaning procedure allows for the gum line to have tartar and plaque that is deep in the gums removed and made smooth again to attempt bacteria from gathering there again.
Bone and Soft Tissue grafts: if the damage done by the gum disease is too severe, then a graft must be utilized to replace your soft tissue or bone in order to provide function to your teeth once more.
Guided tissue regeneration: instead of completing a craft, a regeneration procedure is utilized in order to promote the regrowth of gum and bone where possible.
Pocket Reduction and Flap Surgery: in this procedure, the gums are lifted back, and tartar is removed. From that point, the gums can be put back into place to fit snugly around the tooth and minimize the space of pockets.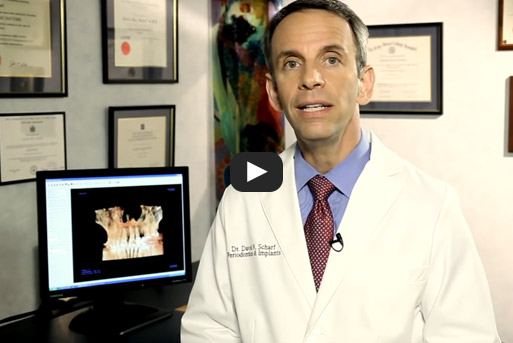 ---
Dental Implant Placement
Dental Implants replace broken, decayed, or missing teeth. Dr. Scharf is an expert in treating the supporting structures of your teeth: the gums and bone. As a periodontist, Dr. Scharf has received extra training to offer advanced treatments. Just as you would go to a general dentist to fill a cavity or get a crown, coming to a periodontist for dental implants is your best option for a successful implant placement that can last for 20 or more years.
Replacing missing teeth with dental implants could mean anything from a single tooth to all the teeth in your mouth.
In case of a bad tooth, we can extract it and graft the socket to preserve the jawbone to keep it strong, and to provide a good foundation for dental implants in the future.
If you have a bad or broken tooth, we can extract the tooth and immediately place a dental implant and a temporary crown, which will be replaced with a permanent one when the site is healed.
In areas where there is not enough bone for dental implants, we can help you regrow bone so the needed implants can be placed. Many patients who had previously been told they did not have enough bone for implants have been delighted to find out they can benefit from our bone regeneration techniques and get the dental implants they want so desperately.
In case of an unstable or loose denture, dental implants can be placed to help secure them.
Dental implants can also be placed to permit you to get rid of your dentures and have a fixed bridge instead.
A whole mouth full of bad teeth can be removed and implants and a temporary bridge can immediately be placed to help you avoid dentures altogether.
Address Gum Health Concerns
Our office also provides periodontal treatment for your gum and bone health, including:
Conservative expert treatment for early or beginning gum disease.
Custom prevention programs for ongoing gum health.
Conservative, nonsurgical gum treatment whenever possible.
laser periodontal therapy to treat more advanced cases without "cut and stitch" or gum flap surgery.
Perioscopy to treat isolated gum problems on front teeth.
Smile enhancement using crown lengthening to reduce a "gummy smile."
Smile enhancement using gum grafting to cover recession and reduce teeth that look long.
Ridge augmentation to correct collapsed ridges.
Periodontal regeneration to regrow bone around teeth lost to periodontal disease.
Crown lengthening to provide more space for dental restorations.
Laser removal of frenums or "muscle pulls."
Laser removal of amalgam tattoos or other dark spots on gums.
Unsurpassed Patient Protection
You expect medical and dental offices to provide a safe, clean environment, yet many people feel uncomfortable asking what is done to keep them safe. Don't hesitate! Ask us how we work to keep you safe during each and every visit. We pride ourselves on maintaining the highest level of care and protection for our dental patients, and we want you to know that we share your concern. We work diligently to provide the cleanest dental office possible, and your health is our top priority.
The following are some of the specific methods used in our office to control the spread of germs, bacteria, and diseases. We:
Scrub our hands before and after each appointment with a special antibacterial soap.
Wear disposable gloves and change them for each patient.
Wear masks to prevent the spread of bacteria and viruses.
Wear protective eyeglasses and face shields.
Sterilize all instruments in the autoclave.
Use disposable products to prevent cross infections.
Disinfect and/or cover chairs and other surfaces in every room before each patient enters.
Dispose of biomedical waste and sharps through an approved biohazard disposal company.
Vaccinate doctors and staff members
Complete infection control training for all staff members every year to stay current with the latest recommendations and advances in dental care.
Employ the latest technology to filter the water we use.
Follow strict instrument-cleaning protocols.
We treat our own families and children in our office, and we are proud of the lengths we go to in order to provide a safe environment for all our patients. Please feel free to ask us about any of these measures we take for your safety. We are happy and proud to discuss them with you, and we are also glad to give you a tour of our patient protection procedures.
Patient Comfort
We focus a great deal of special attention on ensuring that our dental office offers the very best in patient comfort and care, from the time you walk in the door until the moment you are ready to go home. We realize that comfort goes beyond nice furniture and pleasant background music—it also has a lot to do with the way you are treated, and the attention paid to your questions and concerns.
We take as much time as needed with each patient discussing his or her needs, wants, fears, and concerns.
You can come visit with Dr. Scharf in a consultation, just to sit and discuss your situation in a non-clinical setting.
When you enter our office, you will be greeted by name by our friendly, smiling staff members. Our goal is to treat each patient as they would treat a guest in their own home.
All our dental equipment is behind you and out of view. You never feel as though you have hoses and cables draped over your lap.
Fresh blankets and heated neck pillows are always available for patients who would like them.
Our rooms also feature televisions in the ceiling to let you watch your favorite show while having your dental treatment done.
We offer a wide spectrum of methods to prevent you from feeling discomfort during treatment. Topical anesthetic is applied to numb the gum tissue before a local anesthetic is given. Many patients get a racing heartbeat from Novocaine, so we use a relatively new type of local anesthetic called Articaine. This medication makes the teeth and gums very numb but does not commonly cause the heart to race, as other types of local anesthetic can. We also offer nitrous oxide to patients who want it in order to ensure that you are completely relaxed and comfortable.