Dr. Scharf's New Patient Forms:
Our Goal Is To Make Your Life Easier
New Patient Forms
Few things are as stressful as having dental problems, which is why Dr. Scharf believes in making trips to his office as convenient as possible. From the moment you step through the doors of our office, you will be treated with kindness and respect. We understand that most of our patients have busy schedules, which is one of the reasons all of our new patient forms are available online.
If you are a new patient, feel free to download and prepare the New Patient Registration Form, Health History Form, read the Privacy Policy and sign the Privacy Policy Form before you come into the office for your first visit. We have them available online so you can read and fill them out according to your own schedule. Please call us if you have questions while you're working on them. Here are just a few of the benefits of filling out these forms beforehand.
Benefits of New Patient Forms
Eliminate Medical Complications
Although many people underestimate the importance of medical history paperwork, these crucial questions help you to stay safe while receiving periodontal treatment. For example, since taking certain medications in the past can put you at a higher risk of complications during dental implant surgery, having the time to fill out this paperwork beforehand gives you the chance to analyze your prescriptions at home, check with your normal family doctor, and avoid complications later.
Save Time
Before your periodontal appointment, you should be able to relax, read a magazine in our waiting room, and focus on the procedure—instead of worrying about finding insurance cards and filling out a long list of questions. One of the best things about filling out health history paperwork and privacy policies beforehand is the fact that it can save you a lot of time and energy on the day of your appointment.
Avoid Billing Errors
Our office staff works hard to make sure that your insurance claims are processed correctly, but that isn't possible if your information isn't filled out properly. Another big benefit to filling out new patient paperwork beforehand is the fact that it gives you the chance to find insurance cards, enter information carefully, and double check your forms—preventing billing confusion in the future.
Improves Communication
Oftentimes, patients of Dr. Scharf are referred by general dentists or other dental providers, and communication with these professionals is important. By filling out your paperwork properly and listing the name and number of your normal dentist, Dr. Scharf can communicate important follow-up instructions, considerations for future procedures, and information about your existing condition.
Let Us Get to Know You!
We love getting to know our patients, which is another reason we like it when people fill out their new patient paperwork entirely. We want to know more about you and what kinds of dental problems you are struggling with so that we can help you to enjoy a healthier, more comfortable smile.
Tips For Filling Out New Patient Forms
We want your paperwork to be as complete as possible. Check out these easy tips for improving your new patient forms.
Take Your Time!
Before you start filling out the form, read the entire paper. Oftentimes, patients try to squeeze extra information in one portion of the form when there is a dedicated spot for those comments further down on the page. Fill out new patient paperwork forms when you have time, and don't forget to complete the second page of the paperwork.
Write Legibly
When you fill out new patient forms, focus on writing legibly so that our office can record your responses accurately. Use a blue or black pen, as scanning software doesn't always pick up colored script.
Double Check Your Work
After you complete your forms, double check your work. Check to see if you wrote down things like insurance identification numbers properly, and consider asking a close friend or spouse to look over your papers to see if you missed anything. Sometimes it just takes a fresh pair of eyes to spot problems.
Ask Questions!
If you have any questions or concerns about the content of our new patient forms, don't be shy to ask. You can even flag the questions you have problems with by putting a star or a check next to the inquiry so that you remember to ask in person before your appointment.
Make A Copy For Your Records
Consider making a copy of your completed forms for your own reference. That way, if there are questions about your care or insurance billing in the future, you can see what was recorded on your initial forms.
If you have any questions please contact us and we are happy to assist you in filling out your patient forms.
Maximizing Your Insurance Benefits
Dental insurance can be confusing. Let us help!
Check with your dental coverage carrier to find out what your yearly maximum is and how much you have left.
Bring your benefits book with you to your appointment, if possible.
We will complete all paperwork and submit claims to your insurance company.
We can spread out your dental procedures to maximize your annual dental benefits.
Our financial coordinator is always available to assist you in obtaining the full benefits to which you are entitled under your dental benefit plan. There are thousands of dental benefit plans in existence, and it is impossible to know in advance exactly what your benefits will be.
We encourage you to bring the papers from your dental coverage company which outline your dental benefits to your first appointment so that we may help you better understand your particular policy. You should also call your dental benefit provider to confirm what your yearly maximum is and how much of that amount has been used so far this year. Your dental benefit provider will usually attempt to limit your coverage through the use of these annual caps on your benefits.
We will complete all your insurance paperwork in a timely manner at no additional fee and make the process as easy as possible for you.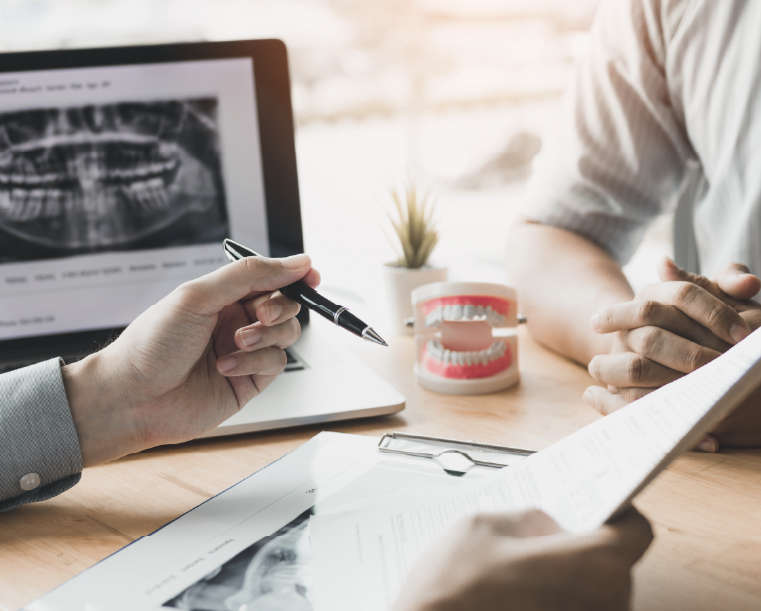 A dental benefit plan is not designed to cover all your dental bills, and (unlike medical insurance) dental benefit plans typically have very low yearly limits. Most dental plans have a yearly maximum benefit of $1,000–$1,500. This limit has not changed in the last 20 years! If the annual limit had kept up with inflation (as your premiums certainly have), it would be over $5,000 today. Your employer will not tell you that your dental benefit is being reduced every year, but in reality it is, because the maximum does not keep up with inflation.
Before Dr. Scharf begins any treatment, he will provide you with an estimate of the cost of treatment. This information will be transmitted electronically to the dental plan provider, which will confirm what portion of the fee will be covered by your plan. We submit claims electronically to speed your reimbursement by your benefit provider. Our financial advisor will help you create a payment arrangement that will allow you to pay the balance of your treatment cost according to a plan that fits your budget. Please Contact us if you have any questions.