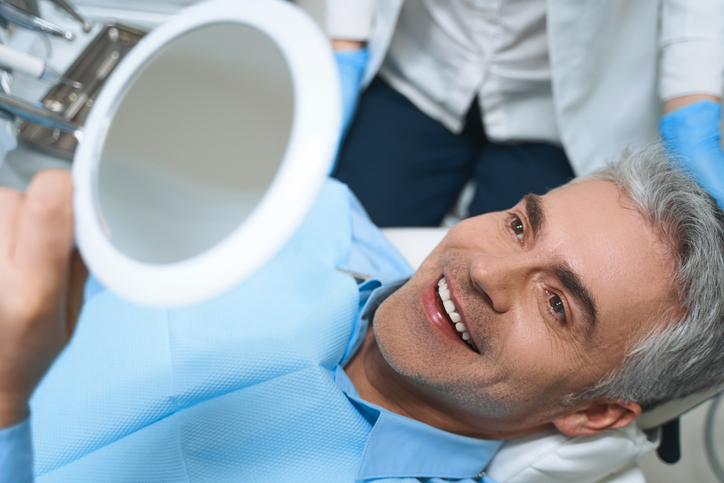 If you have lost teeth or have a tooth that is beyond saving, dental implants are usually the best form of treatment available to replace them. If you are facing this situation, you will naturally have a number of questions that need to be answered. Learning how much dental implants will cost is unquestionably at the top of the agenda.
Here's everything you need to know about the cost of dental implants.
An investment in your ongoing oral health
Before analyzing whether the cost of treatment is worthwhile, it's important to understand the benefits of choosing dental implants over other solutions. Dental implants are designed for people that have either lost a tooth or have suffered damage that cannot be reversed.
Whether the damage occurred due to years of poor hygiene, physical trauma, a medical condition, or any other reason, there are three routes that you could take:
Leave the problem untreated
Get a dental bridge or crown
Choose dental implants
Taking the first option may save money in the short-term future, but will cost you dearly in the long haul due to the inevitable complications. Dental bridges, caps, and crowns are a better choice but still, leave you at risk of decay and bone loss. Meanwhile, they will need to be replaced every few years, which can be costly too.
Dental implants offer a success rate in over 95% of cases, providing a far more permanent solution that also protects the jawbone and tissues. While specialized prosthetics are a little more expensive, they are a cost-effective solution in the long haul due to their durability. Better still, the fact that they are designed and manufactured for your mouth ensures that dental implants will provide the best esthetical and functional restoration.
The cosmetic and health benefits are incredible. Moreover, the fact that only an experienced dentist that specializes in this field can complete the process guarantees a reliable solution. Some would argue that the value of a winning smile is priceless.
Dental implants that are priced around the individual needs
While dental implants are the best option for many patients, no two individuals are exactly the same. Each case is different, which is why it's very difficult to place an average cost of treatment. The truth of the matter is that you will need to discuss your individual case following a consultation to gain an accurate quote.
Nonetheless, there are a variety of influential factors to consider. Some of the most significant elements are;
The number of teeth that have been lost or require extraction,
Which teeth (incisors, molars, etc.) need to be replaced,
The condition of your gum tissue and the presence of periodontal disease,
Whether any (and how much) bone grafting is required,
How long ago the tooth was lost due to the condition of the socket?
Meanwhile, the choice of dental implant materials will also impact the overall price. Finally, the choice of specialist is an integral feature. Dr. David R. Scharf prides himself on offering fair pricing on all treatments. Crucially, a full assessment allows for a dedicated plan of action to be created, meaning that you'll pay exclusively for the treatments and dental implant products that are required.
What's included in dental implant packages?
When paying for dental implants, you aren't only paying for the dental prosthetic. The package covers every aspect needed to produce the very best results for your immediate and ongoing dental health, including but not limited to;
Consultations,
X-rays and impressions,
Any cleaning or preparation treatments,
Tooth extraction,
Prosthetic tooth manufacturing,
Fitting procedures,
Aftercare.
The technologies have evolved rapidly since first entering the industry in the 1950s, meaning that the procedures can be completed with greater accuracy and longer-lasting results than ever before. Similarly, this can lead to shorter appointments and waiting times to ensure that you see the best outcomes in the shortest amount of time.
If you are deemed a suitable candidate for dental implants, there has never been a better time to embrace the treatment – financially or for the sake of your health and appearance.
The life-changing benefits of modern dental implants
Dental implants offer the most natural restoration by far, especially when the treatments are completed by an experienced professional like Dr. Scharf – who even teaches other dentists how to do the work.
The use of advanced technology and materials brings a host of benefits for the individual, including but not limited to;
Dental prosthetics that are designed to match the appearance and dimensions of the mouth,
False teeth that are built to last a lifetime without any additional care or maintenance,
No need to cut (and subsequently stitch) the gums,
Maintain a clear understanding of the treatment throughout every step of the process,
Gain peace of mind by having a modern and personalized solution.
Even if you have relatives or friends that have suffered from inferior dental implants in the past, there is no doubt that today's treatments are built with success in mind. The technology has evolved and has produced high success rates and limits the chances that you will need additional treatments.
Aside from being a cost-efficient answer for the long haul, then, this is also a route that offers transparency throughout every stage of the process. When supported by the care of a periodontist that actually cares about partnering you with the best answer, the value it adds to your life is nothing short of phenomenal.
Learn more today
Whether you're a certain candidate for dental implants or believe that you could benefit from them, Dr. Scharf offers consultations to discuss the options at your disposal as well as material choices, time frames, and costs.
Ultimately, we want you to be 100% happy with your decision because we know you'll be 100% happy with the service. Contact us to schedule your appointment today!