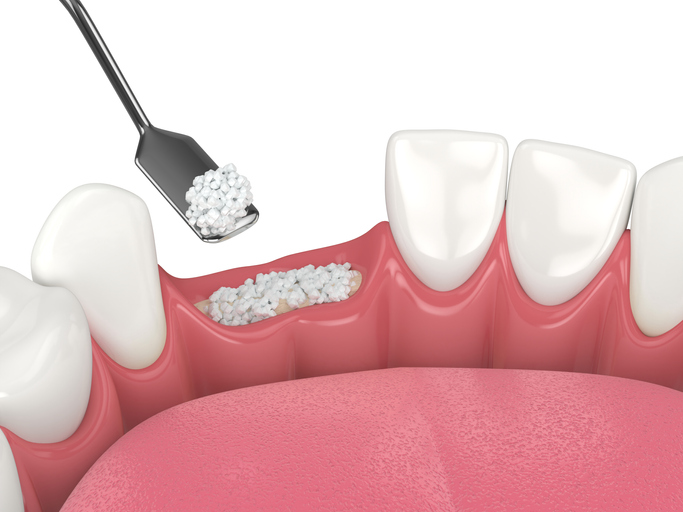 When teeth go missing, your mouth starts to change. Because a tooth is no longer anchored into the jaw tissue, providing stimulation as you talk and chew, the jawbone can start to resorb or melt away. This resorbing process occurs quickly, with patients losing as much as 25% of their ridge width within the first year of losing a tooth. Over time, bone loss can change your face shape or compromise your ability to hold a dental implant, which is why tissue regeneration is so crucial.
The Goal of Tissue Regeneration
The goal of tissue regeneration is to encourage the jawbone tissue to grow so that it can provide a stable, strong support system for dental implants. Invented in the eighties, tissue regeneration has been studied for decades, with modern technologies making the process more efficient and comfortable than ever before.
In addition to dental implants, guided tissue regeneration is also used to strengthen sockets where teeth have been lost recently and to bolster bone tissue that has been damaged by cysts, tumors, or impacted teeth. Guided tissue regeneration is also used in patients with congenital dental disorders or who have suffered from diseases that affect the strength of the oral tissues or underlying bone.
Guided tissue regeneration can also be used to encourage the growth of ligaments, connective tissue, and other periodontal structures with special gels designed to prompt cell growth, such as Gem 21, a growth factor that helps the body create healthy tissue faster. Solutions such as Emdogain can act as a biological adhesive, helping membranes to stay in place while tissue-stimulating solutions do their job or bone grafts take shape.
How Guided Tissue Regeneration Works
Simply put, guided tissue regeneration involves encouraging the bone to grow, and then placing barriers around the gum tissue or teeth to direct that growth. After the gum pockets have been thoroughly cleaned and sanitized, a bioabsorbable membrane is placed between the gum tissue and the bone. Tissue-stimulating proteins, bone grafts, or space holders are then placed within the membrane to accomplish the desired result. Over time, the membrane helps the tissue to grow into the desired shape and is slowly reabsorbed into the body.
Immediately following guided tissue regeneration, the body responds by forming a blood clot within the graft, which releases growth hormones that encourage healing. Over time, the clot is absorbed into the body and replaced by granulation tissue and healthy blood vessels. This healthy vascular system quickly creates a weave of bone tissue, creating a healthy, structurally sound base.
The entire process can take as long as three to four months. However, successful tissue regeneration can prepare your mouth for complex dental restorations such as dental implants which can last a lifetime.
Make An Appointment Today
Have you been told that you don't have sufficient bone tissue for dental implants? Schedule an appointment with Dr. David R. Scharf. During your initial consultation, Dr. Scharf will talk with you about your dental goals and develop a personalized treatment plan with you. By combining his years of dental implant placement experience with modern techniques such as guided tissue regeneration, Dr. Scharf will work to give you the smile of your dreams.