Why is Dr. Scharf the best choice for dental implants?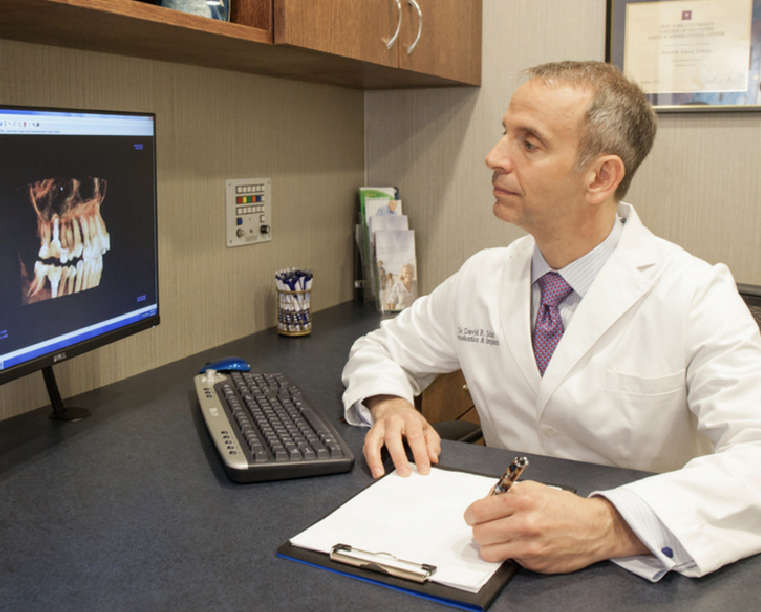 Dr. Scharf is one of the most experienced dentists currently placing implants—he even teaches other dentists how to do it!.
Dr. Scharf uses only the most advanced technology and the best materials to provide the ultimate in patient care.
Dr. Scharf can place dental implants using the most up-to-date procedures—without cutting or stitching your gums!
Dr. Scharf makes sure YOU are involved in each stage of your treatment, from beginning to end.
Dental implant technology evolves at a rapid pace, which presents a unique set of challenges to patients trying to choose the best implant treatment. You want the best possible option, neither outdated nor unproven. Fortunately, when you select Dr. Scharf, you are trusting in his years of experience and his intention to create the best, healthiest smile possible.
Why Choose Dr. Scharf for Dental Implants?
Experience and Up-to-Date Skills
Dr. Scharf's position as Clinical Assistant Professor in the Department of Periodontics and Implant Dentistry at New York University College of Dentistry has benefits that directly affect you as his patient. He is exposed to new implant technologies and has the opportunity to evaluate them in the University setting before ever bringing them into his office!
There is no specific implant technique or design that will be right for every situation and every patient. Dr. Scharf places dental implants from top-tier implant companies, including Nobel Biocare, Straumann, Astratech, Lifecore Biomedical, 3I, Biohorizons, and Ankylos. He will explore all your options with you before helping you select the right implants for you.
Fast Implant Integration
Dr. Scharf uses the most advanced implant material, which enables the implants to fuse with the bone quickly—often in as little as eight weeks. The newest technology allows implants to fuse with the bone in 3 weeks! This means you get your new teeth faster. Dr. Scharf has been using this technology successfully for years. Unfortunately for some patients, there are still practitioners who routinely make their patients wait six months or more by clinging to outdated, old-fashioned implant designs and protocols.
Single Stage Implant Surgery
Outdated implant protocols from the 1980s involved two surgeries for implant placement. The first surgery placed the implant, submerging it below the gum. The second surgery was required to uncover the implant. More recent research has proven that implants are just as successful if the implant is not submerged. Instead, a healing abutment is placed at the time of surgery, eliminating the need for a second "uncovering" surgery.
In certain situations, submersion may still be needed, for example, if a bone graft is done or if a removable denture overlies the healing implant site. Dr. Scharf only submerges an implant when biologically necessary to facilitate integration with the bone. This results in faster treatment times and less surgery.
Flapless Implant Placement
Computer technology has allowed great improvements to be made in regard to implant surgery. Dr. Scharf uses an i-CAT computerized dental scanner and Simplant software to plan implant placements virtually. Computer-generated Surgiguide templates then allow for the virtual treatment plan to be transferred to the patient, and in many cases, implant placement can be achieved without even opening the gums.
This method of implant placement is called guided surgery. Dr. Scharf has the expertise to know if this method is right for you. Patients who are good candidates for this type of treatment will normally meet the following criteria:
There is adequate bone and bone grafting or augmentation will not be needed at the time of surgery.
The shape of the underlying bone will allow implants to be placed in the proper position (not too deep or too shallow) without modifying the contour of the underlying bone.
The gum tissue overlying the implant site is adequate. (There are two types of gum tissue in the mouth: firm, immovable gingiva and loose, movable mucosa. It is preferable to have each implant surrounded by firm, immovable gingiva because when an implant is surrounded by mucosa, the gum tissue pulls away from the implant, causing discomfort, and good oral hygiene can be difficult. With flapless implant placement, there is no control over what type of tissue ultimately surrounds the implants, so a solid base of gingiva is important.)
The patient is capable of opening his or her mouth wide enough to accommodate the instrumentation. Guided surgery requires longer instrumentation than non-guided surgery. Patients who cannot open their mouth wide may not be able to have guided implant placement simply because it may not be possible to get the instrumentation into their mouth.
Sequential Extraction Implant Dentistry
Many patients have a full set of teeth, but they are in such poor condition that they all need to come out and be replaced with dental implants. The goal of sequential extraction implant treatment is to keep the patient in a fixed temporary bridge during the restoration and to avoid a full denture. In a sequential extraction, 3–4 teeth are used to support a fixed acrylic temporary bridge. The remaining teeth (which are not supporting the temporary bridge) are extracted, and dental implants are placed.
Once the initial implants fuse with the bone, the remaining natural teeth are extracted. The first batch of implants then supports a new temporary bridge while the remaining implants are set. This allows the patient to complete a full restoration without needing a denture and eliminates the psychological impact of seeing him- or herself in the mirror without teeth. Most patients who opt for sequential implants say they feel as though they never even lost their teeth at all since the transition from teeth to implants was so seamless.
Dr. Scharf has placed thousands of implants since 1988 and has the skill and expertise to determine if dental implants are an option for you. Contact us to schedule an appointment for a consultation today!