If you suffer from periodontal disease that has progressed to the point where your natural teeth could not be saved, you may require implants. Dental implant surgery provides a solution to missing teeth by placing metal posts into the space left by a tooth. Once inserted, the implants fuse with the bones, a crown is placed, and they feel and function exactly like natural teeth in your mouth.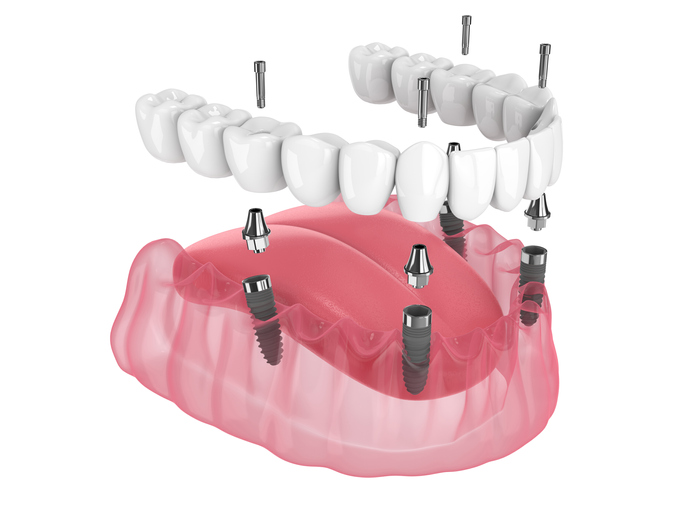 Dental implants provide numerous benefits compared with the alternative options available, including dentures or bridgework. These two possibilities don't function as well as a dental implant, and may not look or feel natural. Dr. David Scharf can complete the dental implant treatment process using various procedures, which largely depend on the type of implant as well as the condition of your jawbone.
There are two types of implants:
Endosteal – Placed within the jawbone, these will typically be made from titanium and have a similar shape to small screws. They are most frequently used in dental implant procedures.
Subperiosteal – The implant will be placed under the gum but above or on the jawbone. This will typically be a recommendation if a patient does not have a healthy natural jawbone and is not able to undergo the bone augmentation procedure necessary to rebuild.
Dr. Scharf will explain your dental implant options in a consultation, careful to answer all your questions about the process. Call Us Now
Several techniques are available for rebuilding bone and restoring the natural jawline. This includes bone augmentation, sinus lift, and ridge expansion. Through bone augmentation, bone is repaired and is strong enough to support dental implants. Alternatively, sinus lift adds bone below the sinus and will be suitable in cases where the natural bone has deteriorated. Or, ridge expansion is called for when your jaw is not wide enough to provide support for dental implants. In this case, bone graft material is applied to the ridge along the top of your jaw.
With this treatment, you will have full support for new teeth, and it will guarantee that the bone heals tightly around the implant. The process of implant placement can take several months, allowing ample healing time.
Preparing The Mouth
As mentioned, dental implants are an effective solution to missing teeth because they fuse directly to the jaw, providing the perfect anchor for your prosthetic teeth. For this to be effective, there needs to be the right level of bone structure in place.
We need to assess whether any infections could compromise the stability of your implants. In some cases, we will recommend treatments to build up the level of bone and eliminate any periodontal disease discovered at the site.
Placing the Implant
Once your mouth is in a healthy condition, having healed from any necessary teeth extractions, Dr. Scharf will place the dental implant. The titanium structure will fuse with your jawbone. During the procedure, we will strive to keep you as comfortable as possible. We may recommend an over-the-counter pain reliever to help you cope with any post-op pain.
Osseointegration
During the healing process, the jawbone and the implant will grow together, fusing into a strong bond. This process is known as osseointegration. It ensures that there is a robust and durable foundation for dental implants. The full healing process may take several months, but you can continue with your daily routine. However, you will be required to consume a soft food diet throughout the first week or so. You may also be provided with temporary teeth during this time if your circumstances require it.
Adding The Abutment
After the dental implant fuses with the jawbone, the abutment will be connected. The raised post is the base for a crown. Once the abutment is put in place, your gums will require another few weeks to ensure that they can effectively heal around it.
Once Dr. Scharf is confident that your implant is ready for the pressure required for chewing, our team will take an impression of the mouth. This will allow us to create the prosthetic tooth or teeth. Your dental restorations will be crafted carefully to ensure that they fit perfectly as part of your mouth.
Once complete, you will have a permanent replacement that is fully functional, where teeth were once missing. We can guarantee that the new prosthetic teeth will look beautiful and completely natural. The new teeth will not decay and will be custom-made. However, they will still require routine care and as well as thorough cleanings. In doing so, you can ensure that your teeth remain in good condition.
It is important to note that once the treatment is completed, you will require regular checkups. These are similar to the typical checkups that you attend with your general dentist.
Can Steps Be Combined?
In many cases, steps must be completed separately. The benefit of doing so is that we can help ensure that you gain the healing time required before the next step. However, for other patients, it will be possible to combine steps and provide a faster process. For instance, you might find that you can begin chewing after your teeth have been removed on the same day. We will always evaluate the necessary action to ensure that a dental implant is a success before we complete this procedure.
Contact Our Team Today
You may find that missing a tooth or teeth is an issue that impacts the structure of your face, your ability to speak clearly, what and how you eat, and even your confidence levels. In cases like this, a dental implant could be the right choice for you. Dr. Scharf can consult with you to see if this is the right option for you. Please contact us today.