Are you ready to get started on the journey toward a better smile? The first step toward beautiful, healthy teeth is to schedule an appointment. Dr. Scharf is always accepting new patients, and we feel confident that you'll be satisfied with the treatment you'll receive here. You can schedule an appointment by calling our office or by filling out the appointment request form on this page.
Please contact us to discuss your dental care needs today.
Office Hours
Monday:
Tuesday:
Wednesday:
11:00 AM to 8:00 PM
9:00 AM to 8:00 PM
8:00 AM to 5:00 PM
8:00 AM to 5:00 PM
8:00 AM to 5:00 PM
Information for New Patients
We want you to feel comfortable and welcome from the moment you first step into our office. At your first appointment, we'll ask you to fill out a few forms that will help us get to know you and your dental needs; you can also fill them out beforehand. Dr. Scharf will then perform an in-depth dental and periodontal exam, taking the time to explain to you what he's seeing and to help you understand what's going on in your mouth. Then you'll have a personalized treatment conference with Dr. Scharf—either immediately following your exam or on another day, depending on your schedule—to discuss your treatment options. Afterward, you'll visit with our treatment coordinator to make financial arrangements that work for you.
For more detailed information about what to expect on your first visit to our office, take a look at this page.
Why Dr. David Scharf?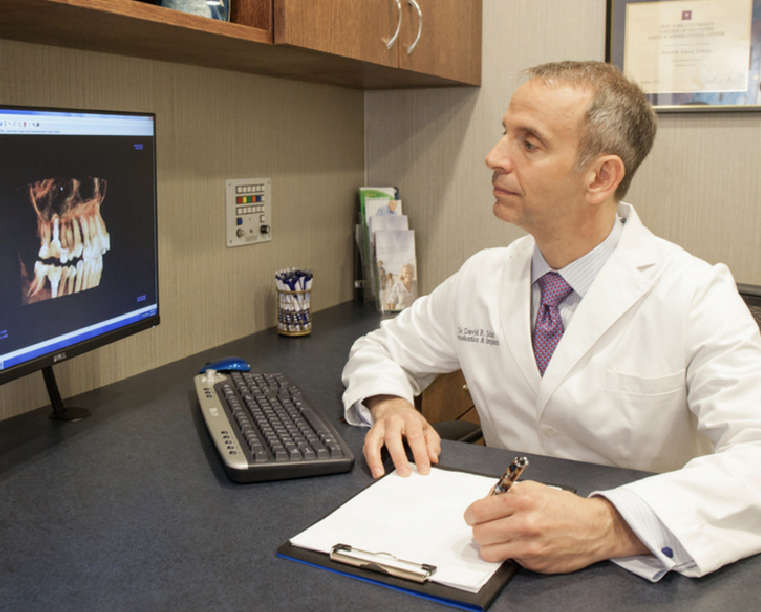 If you're looking for a top-quality, well-reviewed periodontist in Long Island, look no further than the office of Dr. David R. Scharf. Whether you've been referred by your general dentist or by a friend, or you found Dr. Scharf's practice through an online search or a television ad, you can be confident that you've come to the right place. Dr. Scharf graduated at the top of his dental school class and continues to participate in continuing education opportunities. He has personally developed a new surgical technique, has been an assistant professor in periodontics, and has published several articles in national dentistry journals. He's a board-certified periodontist and a certified LANAP instructor. But perhaps most important to you is the fact that Dr. Scharf is committed to putting you first, respecting your needs and your schedule, and helping you understand the pros and cons of every treatment option. And patients recognize this. They comment frequently on his friendliness, professionalism, and expertise.
You can schedule an appointment by calling our office, or request that we contact you via the contact form below. You can also request an appointment in a specific time frame by using our Online Appointment Schedule Request button below.