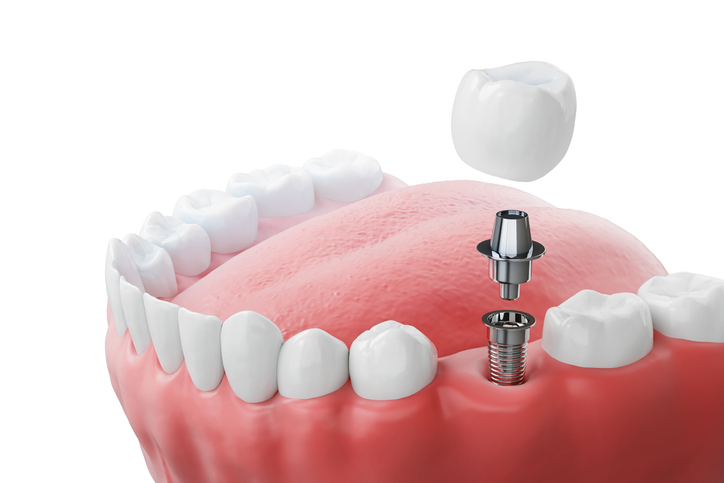 Whether you're missing a couple of teeth or four teeth in a row, implant dentistry fills the gaps with permanent fixtures that stay in place for years. Dental implants reduce infections, prevent tooth crowding, protect your jawbone, and restore your smile's appearance so you have a mouth full of healthy teeth again.
Implant dentistry doesn't eliminate your responsibilities–you'll still have to care for your implants and remaining teeth. However, if you take the procedure seriously, you'll avoid undergoing larger procedures like full tooth extraction and dental implants.
What Is Implant Dentistry?
Implant dentistry replaces missing teeth with crowns attached to titanium posts that we install directly in the jawbone. This permanently fixes the implants in your mouth so you don't have to take them out like removable dentures. If you take care of your implants, they'll never fall out.
When we install implants, we ensure that the crowns match the color of your existing teeth so they don't stand out in your mouth. Our office makes the procedure as fast and comfortable as possible. Some people resume their activities a few hours after the surgery.
Who Benefits from Implant Dentistry?
We might recommend implant dentistry if you're experiencing the following issues:
You've lost so many teeth that you have trouble chewing and talking.
The teeth next to the gap are starting to shift.
Your jaw bone is deteriorating due to the missing teeth.
You experience frequent bacterial infections, often damaging your remaining teeth.
You're self-conscious about your smile when you look in the mirror.
You don't want to pull out the rest of your teeth and wear dentures.
A good candidate for implant dentistry doesn't smoke or chew tobacco, has received treatment for conditions that damage implants like teeth grinding and will commit themselves to care for their teeth after the procedure. They'll agree to follow the recovery instructions and adopt good brushing habits to protect their implants and remaining teeth.
Additionally, certain medications and health conditions could interfere with the procedure or recovery process. We'll review your medical history to ensure that you're a good candidate before we get started.
What Are the Types of Dental Implants?
While most patients get traditional implants, we offer specialized services for patients who need multiple replacements in a short amount of time. Our services include:
Traditional dental implants involve multiple procedures and replace one or more teeth
All On 4 dental implants that replace four teeth at once, which is ideal for people missing large sections of their teeth
Emergency dental implants that replaced broken or knocked-out teeth as soon as possible
Teeth-in-an-Hour services that use virtual models to replace your teeth in one appointment
Teeth-in-a-Day services that produce impressions, implants, and tooth replacement on the same day
If you need additional procedures like tooth extraction before we install your implants, we'll schedule a separate appointment with enough time to let your mouth heal. Prepare for multiple appointments if you have other issues even if you're eligible for Teeth-in-an-Hour or Teeth-in-a-Day.
What is Virtual Dental Implant Planning?
Modern technology allows us to scan your teeth, make a 3D model and evaluate your teeth to plan the procedure and build the perfect implants. We start by taking a 3D image of your teeth and uploading it to our software. Next, we evaluate your remaining teeth, gums, and jawbone to make sure you're a good candidate for the procedure.
If we decide to proceed with dental implants, we'll make a 3D model of your teeth and add virtual implants to the model. This allows us to figure out the perfect placement without damaging your gums or remaining teeth. When you arrive for the procedure, we've planned everything ahead for the greatest chance of success. Learn more about virtual dental implant planning.
What Happens During the Procedure?
If you need additional procedures, we'll perform these surgeries first to ensure that your mouth is healthy and ready for implants. This could include bone grafting, tooth extraction, or surgery to clear out an infection. Once you've had time for your mouth to heal, we'll schedule the implant procedure.
During your surgery, we'll numb your jaw, then make a small incision in your gums and drill a hole in the jawbone. We place the titanium post in the bone and close the area. Once the implant has fully integrated with the bone, we'll invite you back for another appointment and place the permanent crown on the implant.
What's the Recovery Process Like?
Depending on your situation, recovery might take anywhere from two days to up to a week. On the first day after your surgery, we may recommend rinsing your mouth with warm saltwater. You might be able to eat soft food an hour after your procedure–just don't drink from a straw or ingest hot liquids. Afterward, you may resume brushing and eating solid foods.
Post-surgery symptoms often include swelling, soreness, and tenderness. Typically, these effects gradually improve and disappear after a few days. We may prescribe pain medication to help you manage discomfort. The medication might have mild side effects, but you should be able to resume your normal activities in less than a week.
Every surgery has a risk of complications. Possible complications include infection, nerve damage or damage to your existing teeth. However, complications are rare. If an issue arises, contact us so we can get you in the office as soon as possible.
Talk to a Periodontist
Reach out to Dr. David R. Scharf's office today to discuss your situation. We'll schedule an appointment, then examine your teeth and talk about your options. If dental implants work for you, we'll discuss the cost, procedure, and recovery period so you can plan ahead. Let us know if you have special needs so we can accommodate you.
Our office also treats gum disease with techniques like deep dental cleaning, gum flap surgery, pocket reduction, the pinhole surgical technique, and non-surgical methods. We're accepting new and returning patients, so request an appointment today to get started.