Addressing Patients' Questions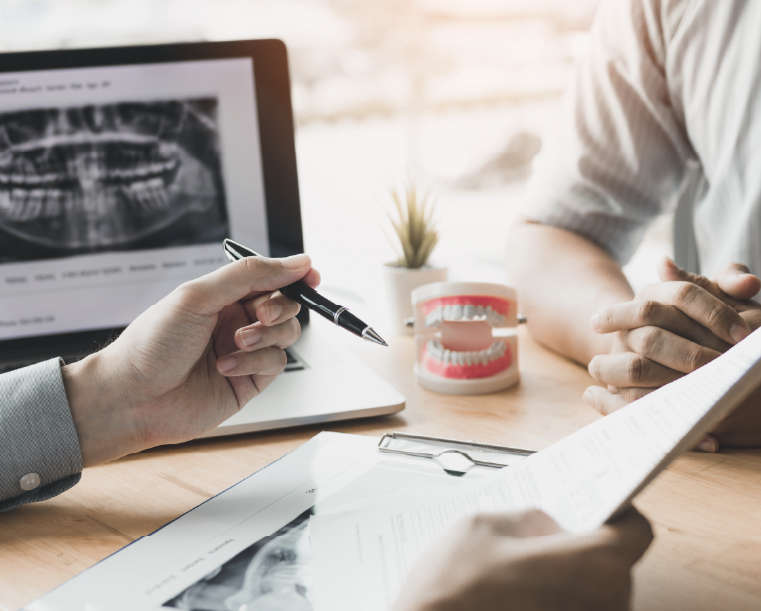 For many patients, dental implants are the best solution to replace missing teeth. But it can seem like a complicated, expensive, and even scary process to some people. Dr. David R. Scharf has placed over 10,000 dental implants in Long Island. Most patients leave surprised at how easy the treatment is. Continue reading for answers to common questions and watch Dr. Scharf's video, in which he addresses many of these same issues.
What are Dental Implants?
Implants are artificial tooth roots that fuse securely with the bone of your jaw, similar to your own natural teeth. Every patient is unique, so the exact process can vary. But in simplest terms, this is what takes place with a dental implant.
Dental implants start with titanium posts implanted into the jawbone below the empty tooth socket.
The bone bonds with the post, forming a solid foundation.
Prosthetic teeth are placed. This can consist of a single crown or a complete arch of teeth made of material that looks, feels, and functions just like a real tooth!
This process leaves patients with a solid replacement for missing teeth. Unlike other treatments for missing teeth, dental implants can last a lifetime if properly placed and cared for. In addition, implants help preserve facial structure, preventing the bone deterioration that often occurs when teeth are missing.
Implant surgery
Many patients assume surgery for implants will be a major ordeal, but nothing could be farther from the truth. Typically, the procedure requires less anesthetic and is faster than most other dental work. After surgery, most patients report taking one over-the-counter pain-killer was enough to deal with the pain. In fact, many patients return to work the same day as the surgery.
A proven technology
Dental implants are not new. They were first used in the mid-1960s and were introduced to the United States in 1984. Researchers have been perfecting the technology ever since. This means they are a well-developed, predictable, and long-lasting solution for missing teeth. This is why they are the most recommended option for replacing missing teeth today.
Of course, in this time there have been improvements in technology. For example, Dr. Scharf uses 3D imaging and virtual dental implant planning software to ensure the most precise placement possible. This also allows him to provide implants to patients who would not otherwise be candidates for implants because of diminished bone structure.
The cost of dental implants
Implants are typically more costly than alternatives for replacing missing teeth. But the value of an implant is much higher in the long run. This is because implants last much longer than bridges or traditional dentures. Once your implants are placed, you'll likely never have to spend the time or money having them redone. Still, Dr. Scharf understands this upfront cost can be prohibitive for some patients and so he will help with financing or payment options to reduce any hardship. Learn more about the cost of dental implants.
Dr. Scharf's expertise
Dr. Scharf has received extensive training in implantology. He has been successfully placing implants since 1988 and, through continuing education, is abreast of the most current information on implant dentistry. In recognition of his expertise in the area of dental implants, Dr. Scharf is a Clinical Assistant Professor in the Department of Implant Dentistry at New York University College of Dentistry, where he trains dental specialists in the art and science of placing and restoring dental implants.
Dental professionals around the world recognize Dr. Scharf's expertise in implants. He has lectured on the latest techniques in implant dentistry in such far-off places as India and Korea. Dr. Scharf is the Founder and President of the Long Island Dental Implants Study Club, an educational organization whose mission is to keep restorative dentists current on the latest developments in dental implants.
Are implants right for you?
If you are missing one or more teeth, it's time you came to see Dr. Scharf to find out if dental implants are the right solution for you. He will happily walk you through the process, letting you know exactly what to expect from beginning to end. He'll also take the time to answer any questions you might have about the procedure. The first step is for you to contact us to schedule your consultation.