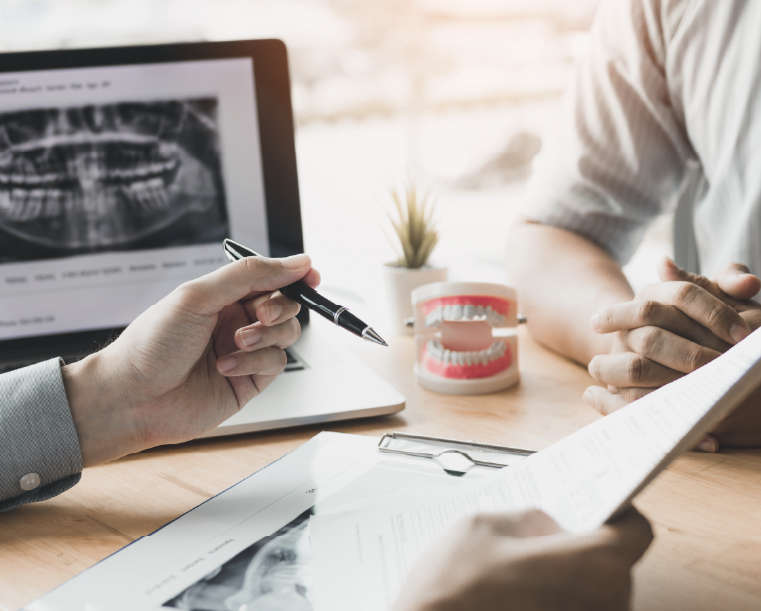 When it comes to choosing an implant dentist in Long Island, there is no shortage of dental practices to choose from that offer this service. With so many options available, you need to ensure that you're making the right choice for you according to your needs. As such, you must do your research and gather all of the information you need to make an informed decision.
For a successful, positive experience, you will want to have as much background information about the practitioner as possible. Here are some questions you should be prepared to ask so that you can get the best possible treatment with the highest quality care that will result in a beautiful smile that lasts throughout the years.
Is the Implant Dentist Board Certified?
Not all dentists are created equal. Any dentist is legally able to place dental implants, but specialists have additional surgical training that spans over an additional 3 years or more compared to the standard training. Board-certified specialists have undergone a high standard of training and performance to reach their certified status. Successful applicants will receive additional diplomas in their specialty. When the dentist becomes 'board-certified' they will then receive 'diplomate' status in their specialized area.
How Comprehensive Was the Training for Your Implant Dentist?
As previously stated, most trained dentists will be able to fit dental implants. However, they may have only attended a one or two-day introductory course. It takes a lot of training and experience to develop the highest level of care. For an expensive procedure, you want to make sure that it's done right the first time, and that your smile looks its best at all times.
How Many Implants Has the Dentist Placed Within the Past Year?
A knowledgeable and experienced dentist is who you want to be handling the placement of your dental implants. This way you'll have the assurance that simple as well as complex procedures can be handled with the highest skill and care. If a dentist places just ten dental implants per year versus a dentist who places hundreds every year.
Has the Dentist kept up With the Latest Technology?
With technology constantly evolving, it is incredibly important that those working with dental implants keep up to date with the latest technology. Having a comprehensive diagnosis and treatment plan is an essential part of the process of installing a dental implant. It's worth knowing and understanding which courses they have been on recently to be assured. Keeping up to date with their training is incredibly important to ensure they don't fall behind. Ask which courses your implant dentist has attended in the last year to ascertain how well they are keeping up to date with the latest innovations.
Does Your Dentist Have Before and After Photos of Their Work?
If you search the term 'dental implants Long Island' online, you will see a host of stock images of work following a dental implant procedure. However, the best implant dentists will also keep a catalog of their work to document their cases. This is to show progress, to advertise, and to use as success stories. A good implant dentist will be proud to share their before/after pictures with prospective patients.
Will There Be A Comprehensive Initial Exam Prior to Offering Treatment?
When looking into specific treatments, you should always check to see which diagnostic exams are offered by the dentist. If they only want to look at one of the tasks in hand such as a missing tooth or teeth, and not into other potential issues, then you will know that they are not interested in your long-term oral health.
They should also complete the following examinations:
Gum health examination
Complete bite evaluation that looks into looseness of teeth, tooth wear, and bite function
TMJ function shape and size of the jaw bone
Gum tissue area
An oral cancer screening
You may also wish to go as far as asking what equipment they use to carry out the procedures. Advanced equipment will show how dedicated they are to their practice and how important good quality and innovative technology are to them.
What Brand of Dental Implants Does Your Dentist Use?
Over the years there has been lots of research into making thousands of different types of dental implants. However, throughout the years, the types of implants have narrowed considerably through depreciation. Do not be tricked into using a cheaper brand. They will often be of much lower quality control, with lower quality materials, with a price to match. Ask your dentist for the exact brand that they use and where they are made. You can then do your own research to look at reviews surrounding the quality and longevity of the products used.
What is The Procedure for Fitting Dental Implants?
Asking about the exact procedure for fitting dental implants will help you to manage your expectations throughout. You can ask questions surrounding the process of choosing and fitting the dental implant, as well as ask for information about recovery time and aftercare. As well as getting the reassurance you need before undergoing the procedure, you can also rest assured that your dentist has the knowledge to be trusted to complete the task.
Finding your implant dentist in Long Island doesn't have to be an overwhelming task. By asking the right questions, you are likely to gain a greater understanding of your potential practitioner's skills and areas of expertise. This will result in your assurance that you will have achieved the beautiful, healthy smile that you've longed for.
Contact us to schedule your appointment today!